How long have you lived in the Yarra Valley and what do you love about the area?
I bought a home in Healesville in 2013 and moved up here from Blackburn in 2014. I like Healesville in particular because in the main street it almost feels like the inner suburbs. You have all the cafes and shops but if you go a little bit further out, you are surrounded by nature. I love to go for a walk and enjoy the open spaces and beautiful scenery that this area has to offer.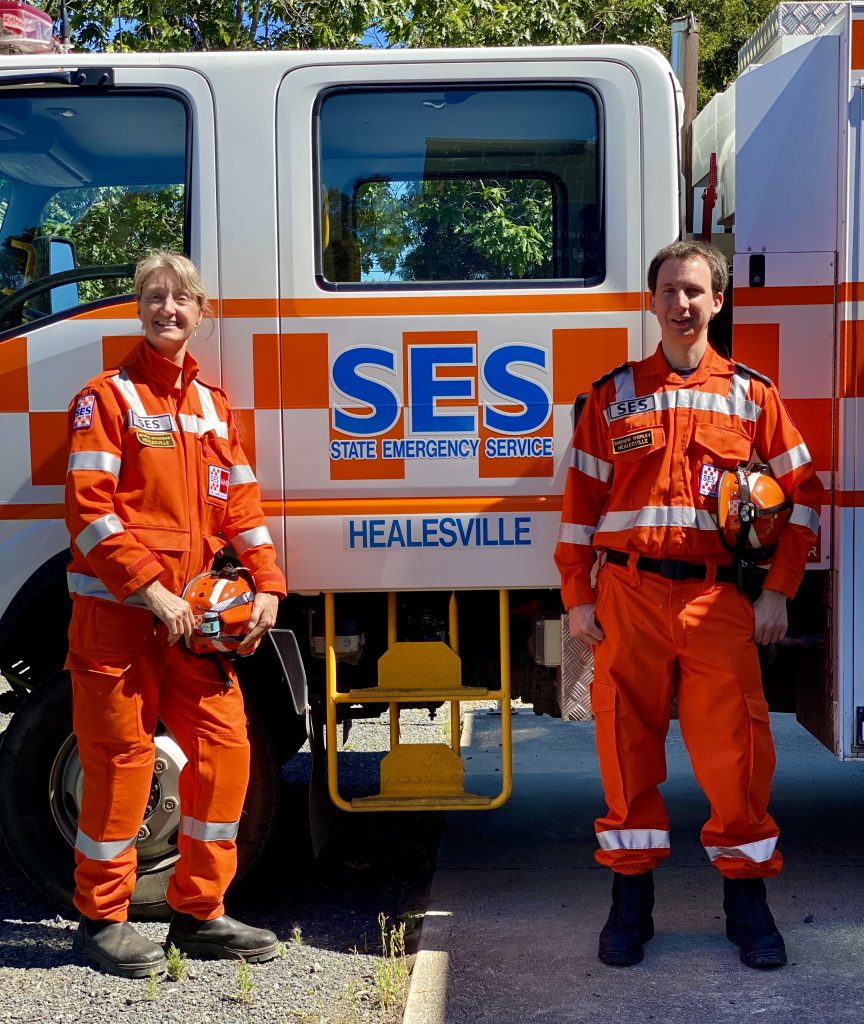 When did you join the SES?
I joined in 2010. I was a member of the Whitehorse unit (formally Nunawading) for about 4 years and then when I moved out to Healesville in 2014, I transferred to Healesville SES unit.
Why did you decide to join the SES?
I really wanted to make a difference in the community and learn some new skills. There are plenty of organisations you can join to make a contribution but I was really looking for the variety of jobs that the SES attend.
What is the difference between country SES and suburban SES units?
There are some differences between the two. While the core services provided and the overall structure of the units are similar, the size of the unit in terms of number of members and the area they cover can be very different. Inner metro SES units will generally have smaller response areas with a larger population but also often have greater numbers of members in each unit.
Most of the rural and regional units, and some metropolitan units including Healesville SES, provide road crash rescue services.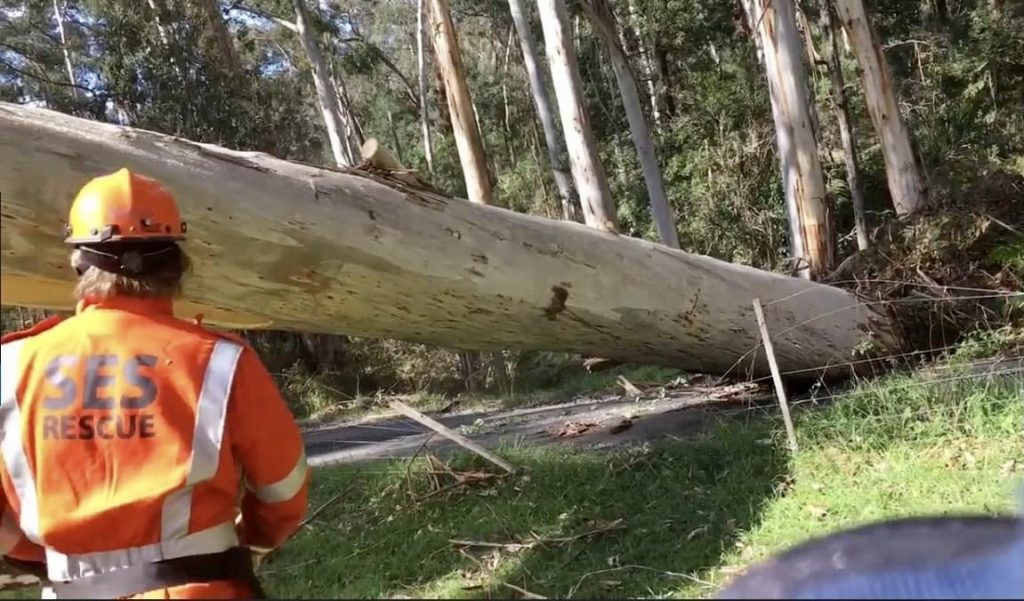 There were some very large searches last year around Warburton and Mount Disappointment and the metro units provided a lot of people to aid in the search for those missing people. They provide people power as many of them have more members. When you're searching for people, you need a lot of well trained people and a lot of vehicles searching, so the metro SES units are extremely helpful when there are search and rescue operations.
While our unit is smaller in size with fewer members compared to some of the inner metro units, we do cover a larger area and also are a principal provider of road crash rescue services in our area.
The majority of our jobs are storm and flood related, but we also response to many rescues.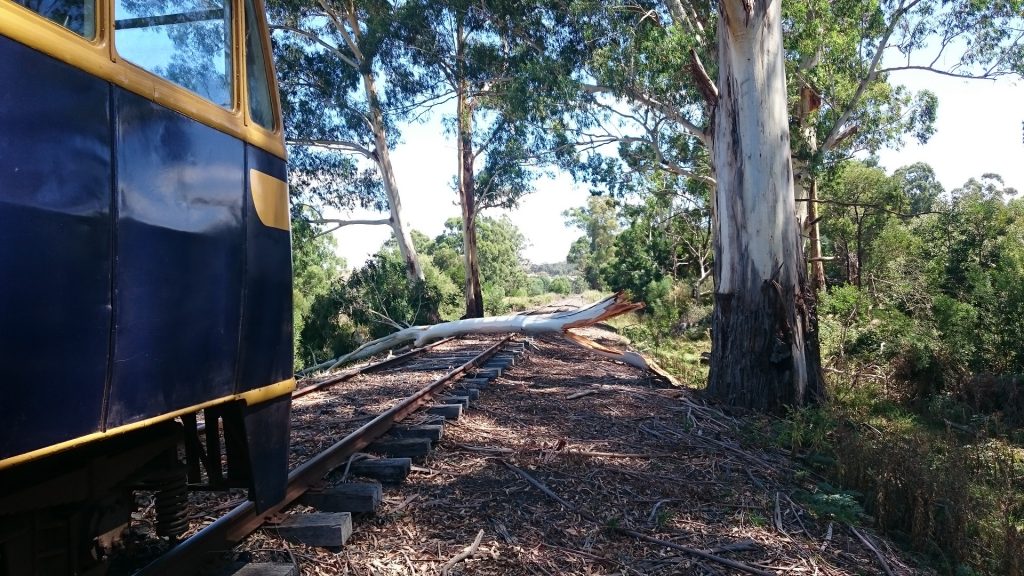 How many call outs would you have in a week at your unit?
Sometimes we can have none and sometimes we can have more than one a day. On average we attend between 300-350 call outs a year. It goes up and down of course.
How many people do you have in this unit at the moment?
We currently have 15 members at the moment and we have about 8 that are operational and the rest are non-operational. Historically the unit has around 20-30 people. It fluctuates, people come and go, so we are a little bit down at the moment on members, which means some of our members are on call all the time at the moment to cover any jobs.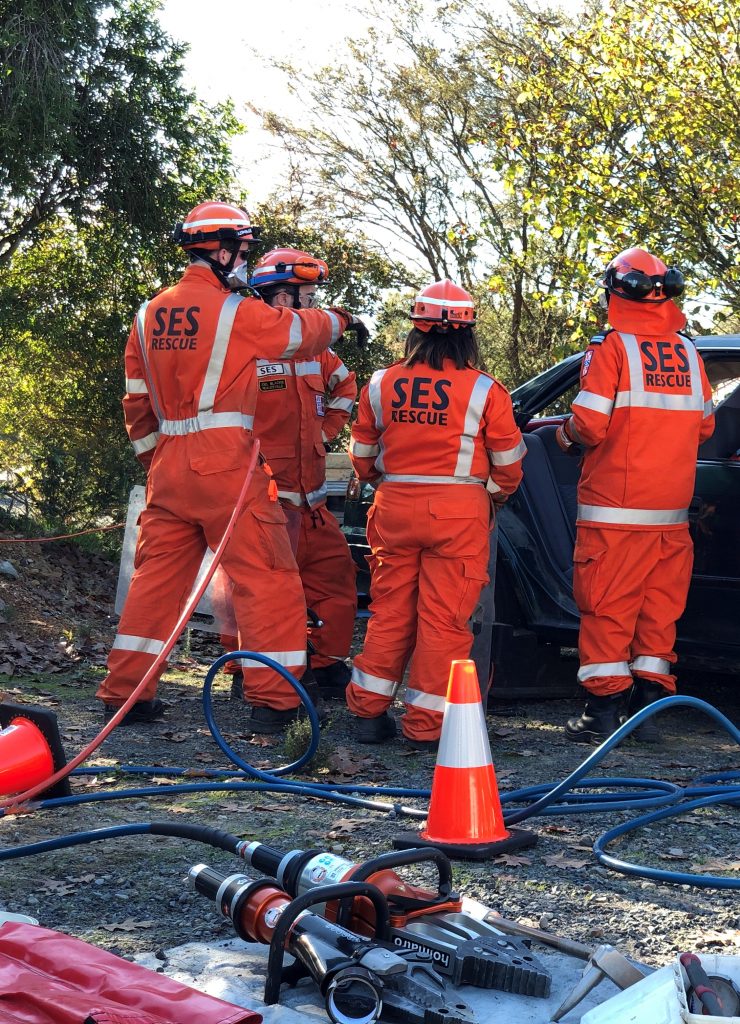 How do you manage who is on call?
We need to make sure that we have members available 24-7, so we have an availability system where we track who's available, so we always have enough people to respond. During the busy periods like now, we do a roster so we can work around everyone's holidays.
Obviously the more members there are, the easier it is on everyone in the unit. Regardless of our member numbers, we still have to make sure we have sufficient members available but also with the right skill set. Every member in our unit has a different level of training and skills that they specialise in, so it's important that we have the right people with the right skills attending jobs.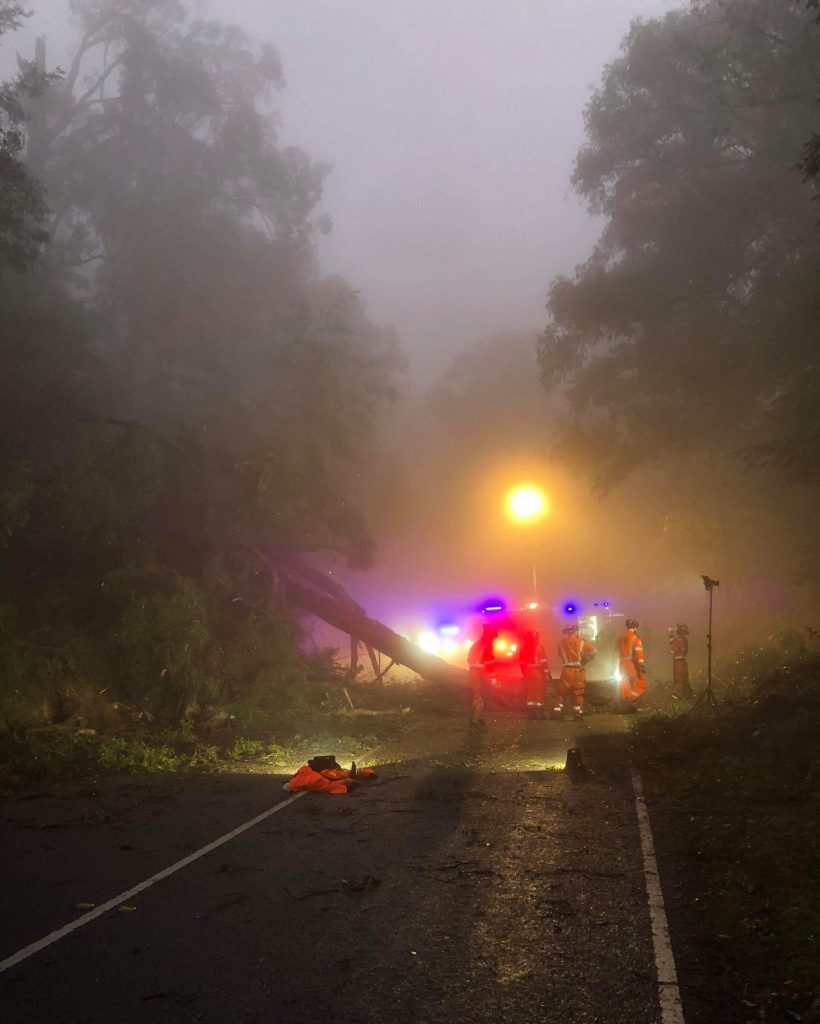 We have to make sure we have a crew available at all times that can perform a rescue for example. But the SES is similar to the fire brigades and we are backed up by the units around us, so we work together.
What sort of training is involved in becoming a SES member?
Depending on the type of training course it can either be more on-line or face to face. The recruit training is mainly based around safety, rescue procedures and use of equipment, and ensures that you have the skills, knowledge and personal protective equipment that you need to become operational.
Some of the training is provided on-line so people can do it in their own time to get the required information and then a large element of the training is face to face at the unit.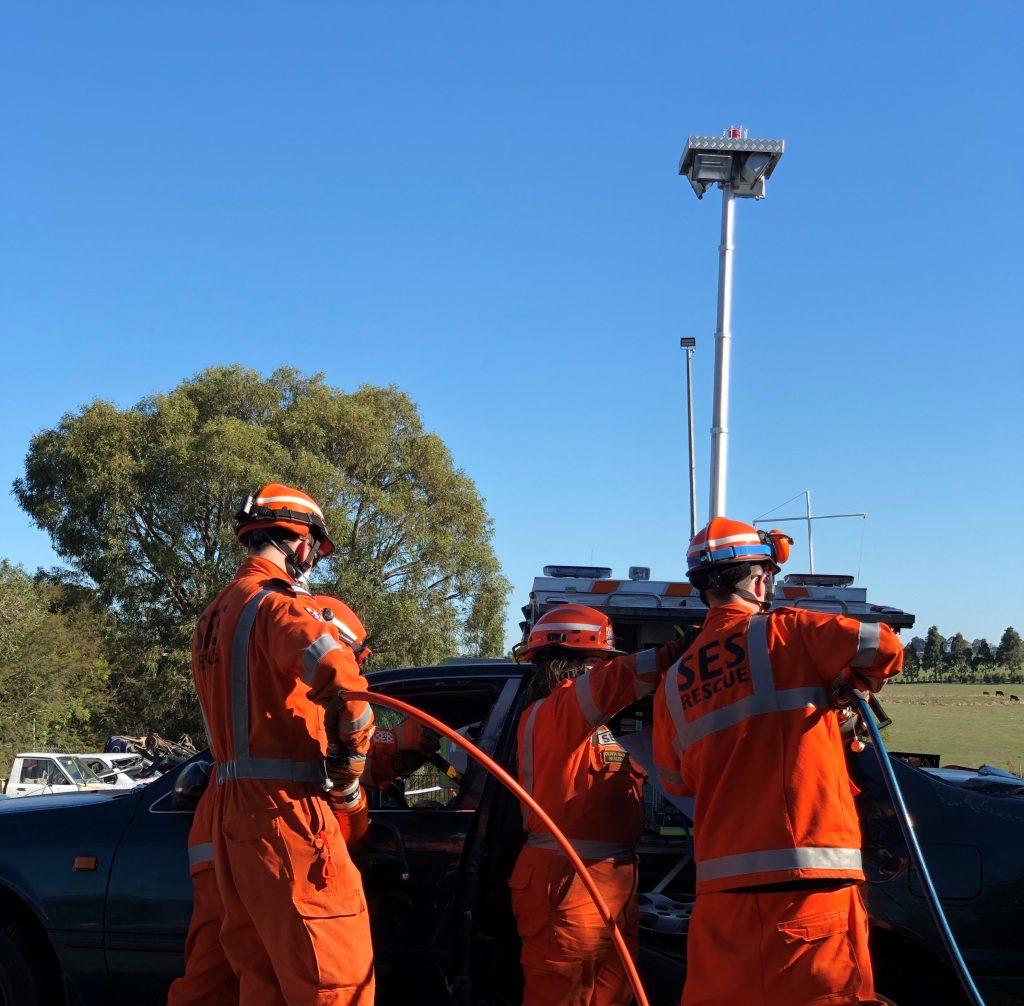 When a new member starts there will be a fair number of contact hours. We do a weekly training session, but new members will also need to do the online training and there will be a number of additional training sessions as well to prepare for the assessment.
The recruits need to go through hands on skills training and then a formal assessment to ensure they are capable of preforming those skills.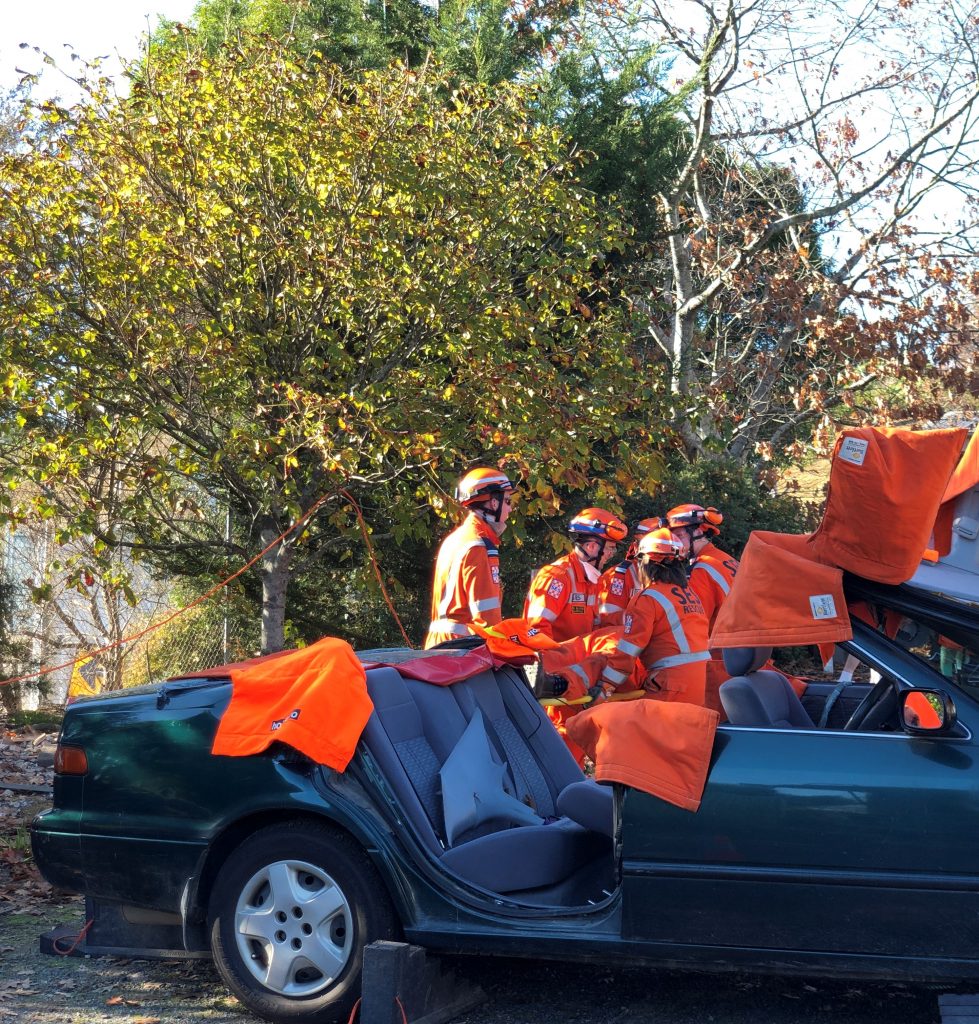 SES provides nationally recognised training. After completing the initial training, members can go on to specialise in different areas such as road crash rescue, swift water rescue, urban search and rescue, safe work at heights, land search, traffic management, community engagement, and incident management just to name a few!
Every unit will prioritise different skill sets depending on what the bulk of their work is.
To give you an idea of the amount of training available, the training provided by SES contributes to a Certificate II in Public Safety (SES) or a Certificate III in Public Safety (SES Rescue) which are both nationally recognised qualifications.
What is your role in the unit?
I am the unit controller. I have been the unit controller since February last year. My role is to lead and manage the unit. That means making sure we are operationally ready at all times, which also includes everyone having the right training, so they are ready to perform their role in the unit when required.
One of the other major parts of my role is to look after the welfare and safety of all our members. There is also an administrative side to my role. COVID has really increased my administrative work, due to all the restriction changes. For quite a large portion of last year we were unable to meet and do training which meant it was all done on-line. All our meetings were also on-line.
Even though it was a very challenging year due to COVID, our main focus was always to keep our members and the community safe, while still keeping the unit fully operational.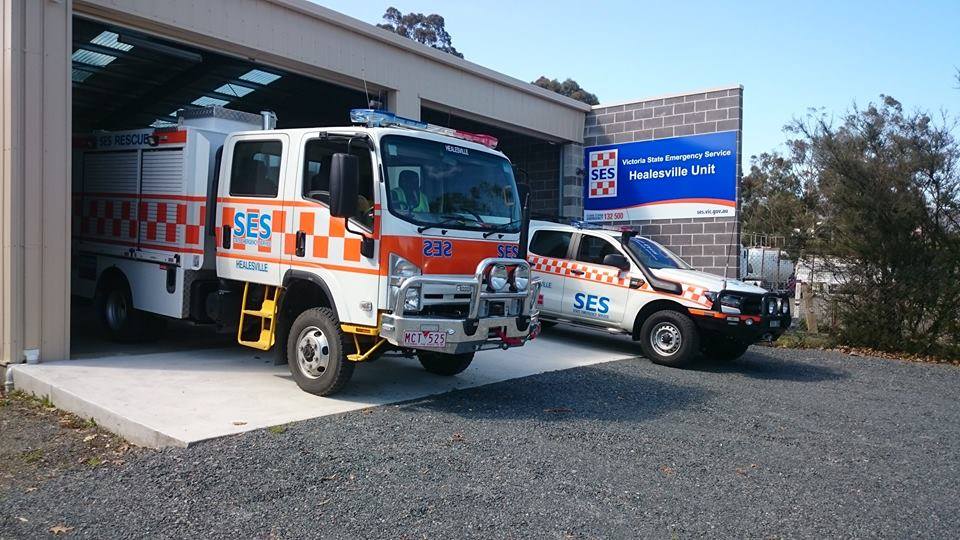 What sort of incidents do the SES attend?
SES units respond to a wide variety of incidents including storm and flood response including landslides, search and rescue, rescue boat and swift water rescue, road crash rescue as well as air, industrial and rail rescue.
SES is the control agency for flood, storm, tsunami, earthquake and landslide throughout Victoria, and provides the largest road crash rescue network in Australia with 103 of the 133 road crash rescue service providers in Victoria, with the remainder provided by CFA, FRV and a couple of independent providers.
Most of the rural and regional units, and some metropolitan units including Healesville SES, provide road crash rescue services.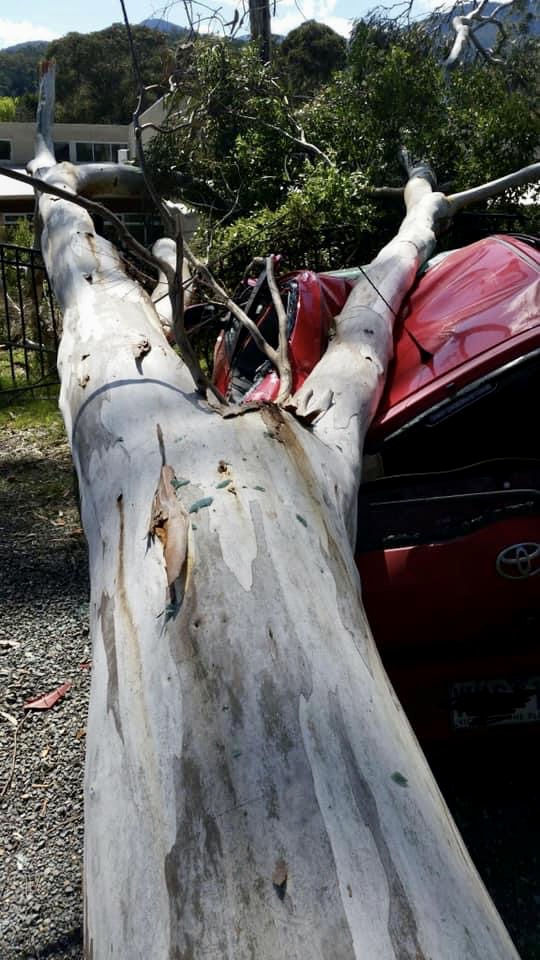 What area does your unit cover?
We cover an area that extends from Toolangi to Don Valley, and Coldstream to the Black Spur and all the areas in between.
What is the most difficult incident you have attended and why?
It was probably my first road crash accident just after I joined this unit and before I did my road crash rescue training. The unit I came from didn't do road crash rescue so I was not trained in it. I was in a SES vehicle driving by myself on the way back from a training course, when I came across an accident in Christmas Hills.
I was there in my big SES vehicle with my red and blue lights flashings and as soon as I hopped out of the vehicle everyone was expecting me to take control. Fortunately the casualty was already out of the vehicle.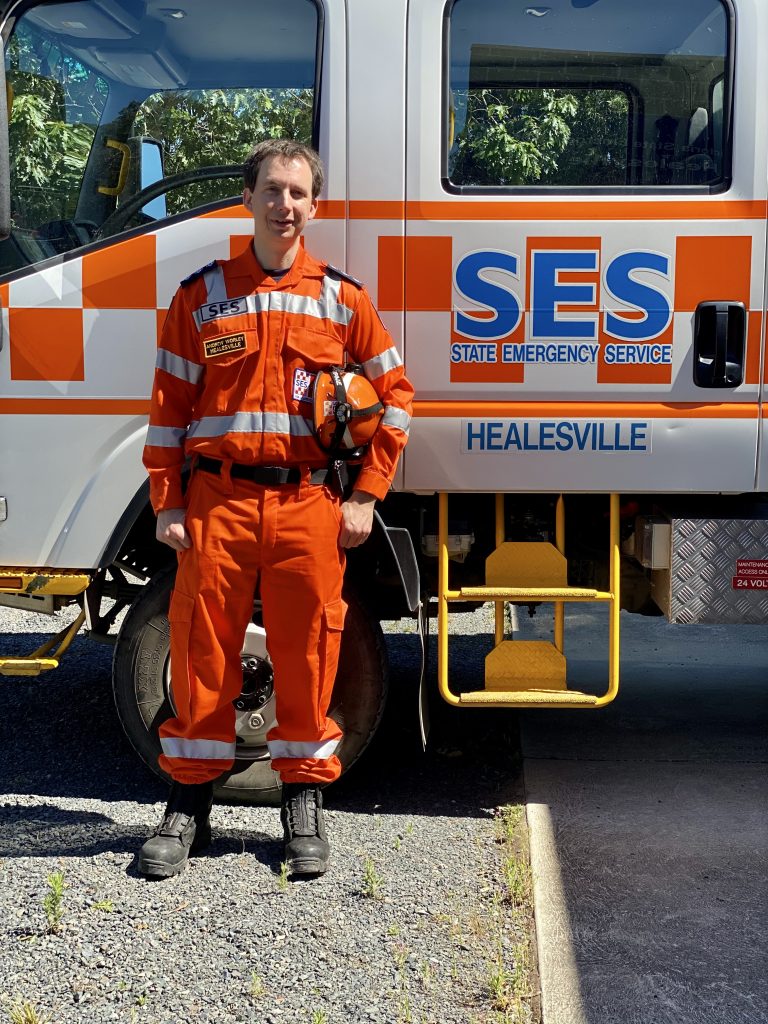 He wasn't in a good way but there was still an accident scene to manage. His car had rolled and debris was spread all over the road. There was three hunting dogs roaming around that had escaped from the vehicle, there was also some guns in the car and members of the public walking all over the road. I was trying to manage the scene and keep everyone safe.
Before all the emergency services arrived, I had to care for the casualty and coordinate the public, tow truck, and council ranger, before the SES and ambulance arrived.
One of the most difficult thing to do is recovering someone from a vehicle that has passed away. We have to, of course, still consider the welfare of the deceased person and be respectful at all times. We also have to manage what members of the public see, especially if their friends and family are at the scene. We always hope for a good outcome but sometimes the outcome is a tragic one.
How do you prepare new recruits for some of the challenging incidents they will attend?
We obviously talk to our new recruits about what they may see and we talk about how they might handle it and different ways to approach it. It is normal for people to react differently, and it is important to understand the types of responses and feelings that might happen and how to handle them.
We have Critical Stress Incident Support available for all our members as well. They are called after a traumatic incident even if everybody is perfectly fine at the time, because they may not be the next day, next week or the next month. Sometimes the trauma from an incident doesn't hit a member for sometime, so we are always looking after the welfare of our members, to make sure they are well both physically and emotionally.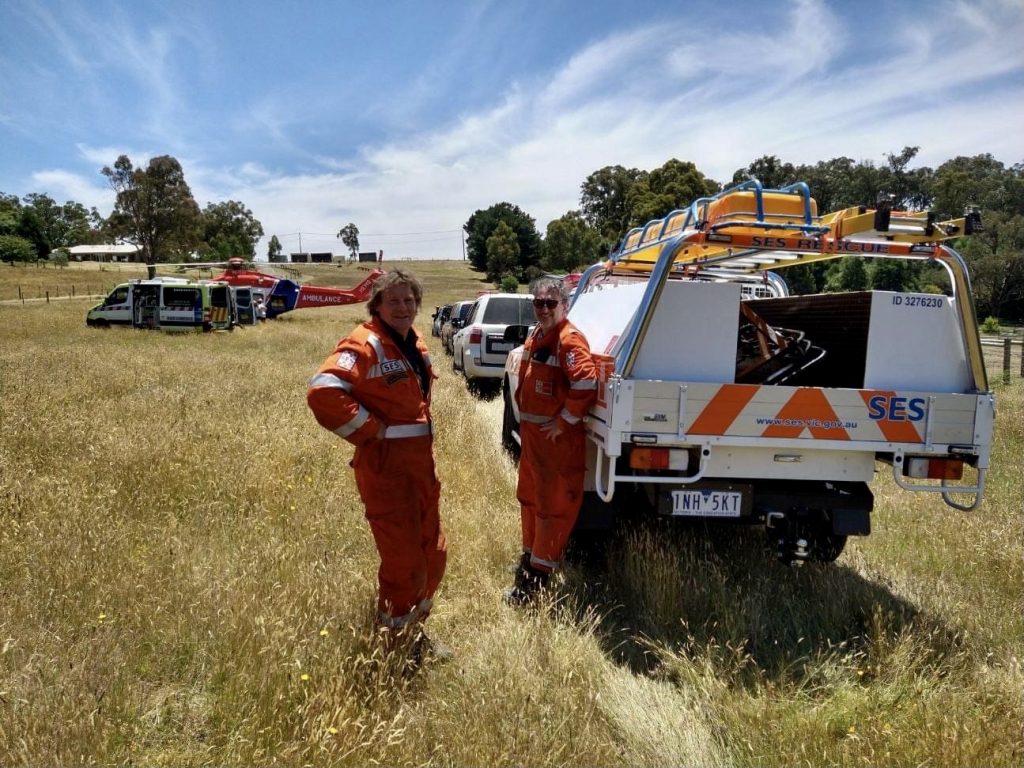 What is the hardest thing about being an SES member?
Probably the hardest thing is managing time. Many of us are very keen to provide as much assistance as we can to the SES because we are committed to the organisation. We want to give back to the community as much as we can but of course that commitment to the SES also needs to be balanced with our own lives including our families and our work.
If someone wants to become a SES member, what is the process?
The best way is to go to the SES website. There is a section on the website about signing up. You will get directed to your closest SES unit. That unit will then get in touch with you to discuss the process of becoming a volunteer.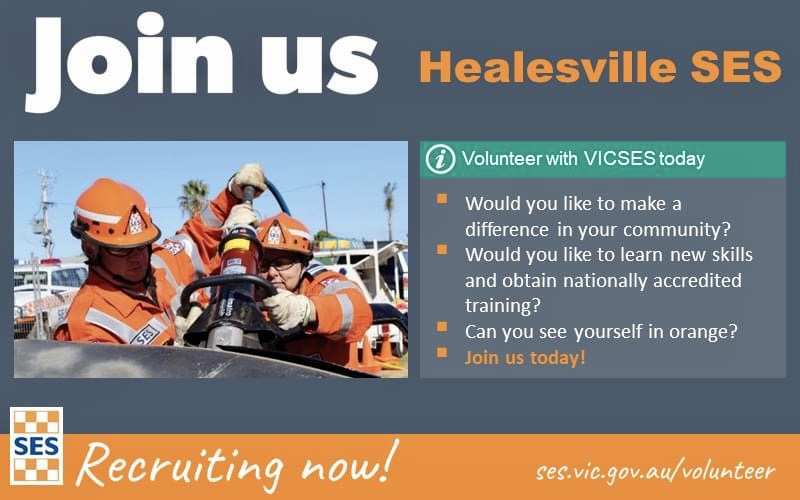 Our member numbers are a little low at the moment, so one of our main focuses this year is to recruit new members. Our number one priority is to increase our operational members but we are also looking for non-operational members that are interested in finance and administration.
We have a few members that do a bit of both. We are hoping to double our member numbers this year, so please if you are interested in becoming a member, please visit the SES website or call 1300VICSES (1300 842 737).
Raising money is an important part of what you do, so how do you raise money for the unit?
In 2021, fundraising will be a bit different, due to COVID. We hope to be able to get back to fundraising in the community, as well as hosting open days but we need to ensure that we can do it in a safe manner for both our members and the public. This means that some fundraising may need to be on-line, which a lot of volunteer groups are doing these days.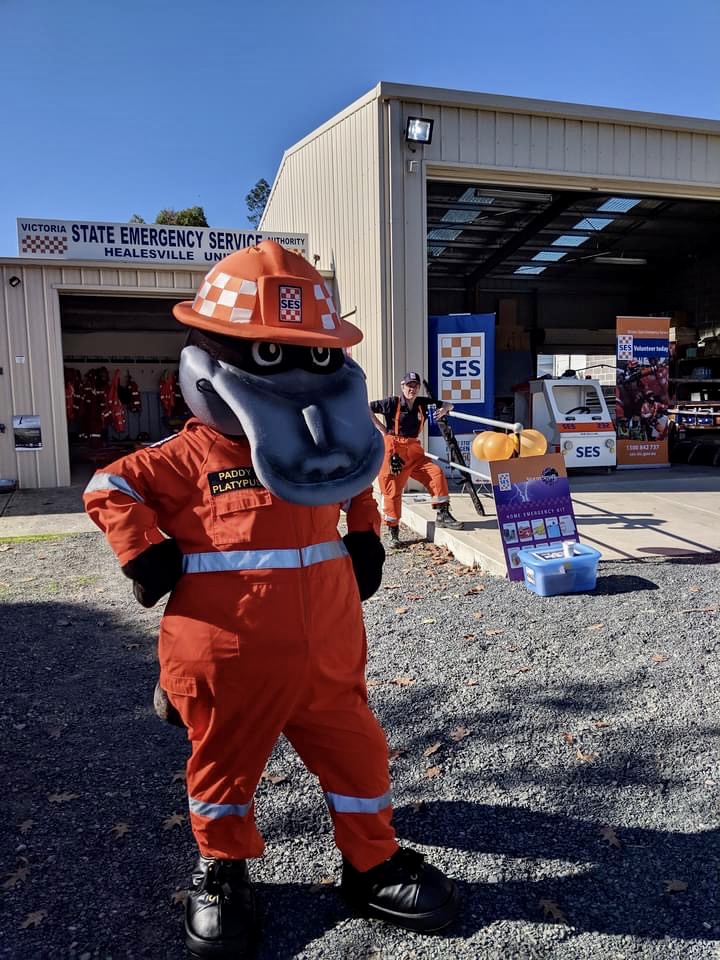 We also apply for grants through the government, council or local organisations. We really rely on donations, as it allows us to purchase additional equipment, replacement vehicles and facility improvements, which enables us to provide a better service to the community. The extra funds we raise also assist us with training and operational facilities for our members.
Our primary rescue truck is funded by the SES, and all our other vehicles are purchased and maintained using unit funds which come from fundraising, donations and grants.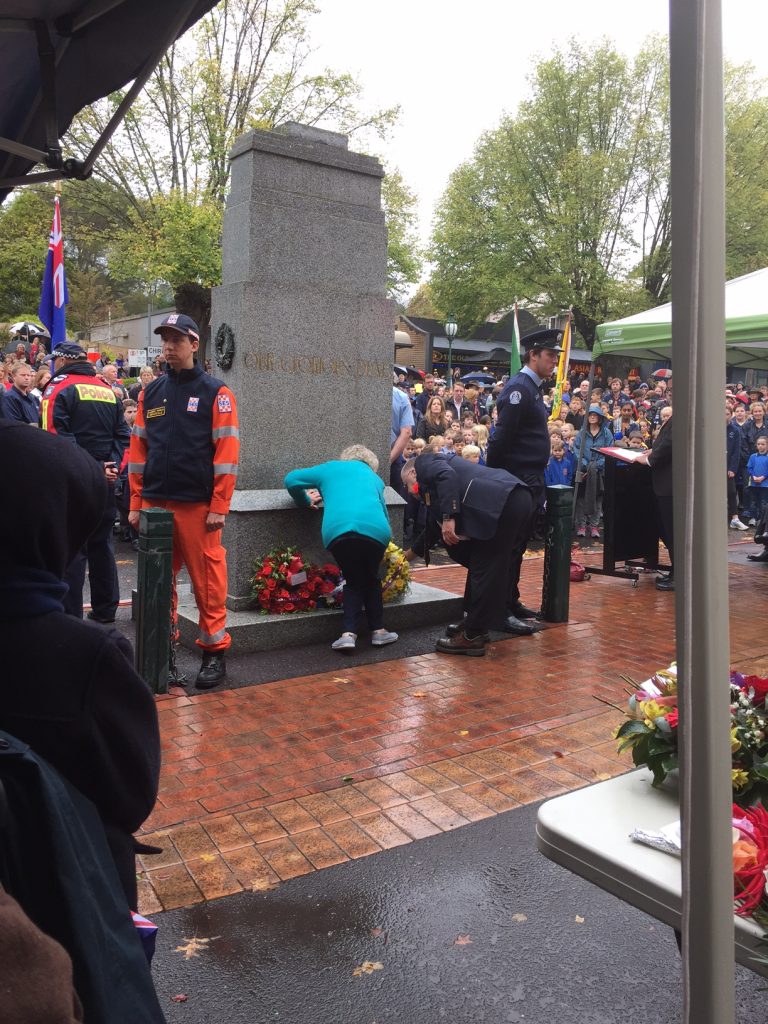 What is the most rewarding part about being an SES volunteer?
The most rewarding part is definitely getting a thank you from someone when you have helped them and made their day better. That's why we do it, to make a difference in peoples lives.