Next year is the 10th anniversary of Warburton's own Catprint Theatre Company and to celebrate they are planning a big musical performance. Producing a musical for a small theatre company is no easy feat however. Buying the rights to the music and paying the musicians to play it make musicals more expensive to produce than a typical play so finding the extra funds is one of the challenges.
To help raise the money needed to put on the best possible performance Catprint Theatre Co. are running a Trivia Night on Friday the 21st of February at the Warburton Community Space – 25A Dammans Rd Warburton. Not only will you be helping the group raise much needed funds for the show, but you will also give yourself a chance to have a fun night and win some great prizes!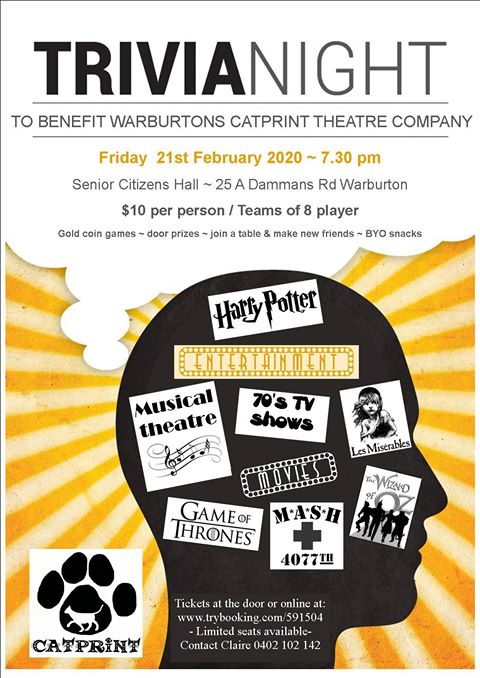 Teams for the Trivia night will have 8 players, but don't worry if you don't have a full team you can book as an individual player and join in with one of the teams on the night.
The trivia competition will consist 6 rounds of ten questions. There will be several door prizes and prizes for the overall competition winners. There will also be some other fun games and tests of skill to win additional prizes, so it's set to be a lot of fun.
Tickets are only $10 per person and there are limited seats available, so if you want to guarantee yourself a spot on a table, best to book in advance. Booking on line closes at midday on 21st of Feb. If you have any questions about the night contact Claire on 0402 102 142.