Helen Cornell is a local ceramics artist who lives in the picturesque town of Warburton in the Yarra Valley. Helen has set up her own studio at the back of her home where she runs Cornell Ceramics. Helen creates ceramics and teaches out of her studio. Helen loves what she does and it shows in all the beautiful and varied work that is spread throughout her studio. I sat down at her work bench in her studio to have a chat about her life and her creative journey.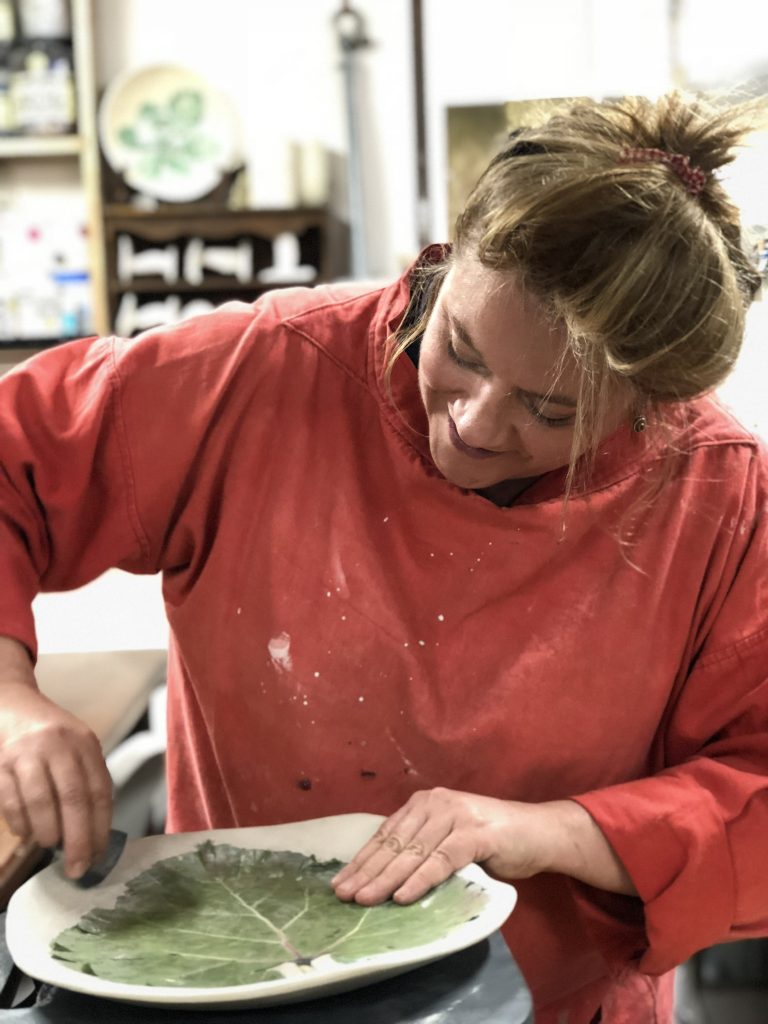 Helen grew up in a very small village in England called Cold Norton with her mum and dad and brother Phillip. Helen told me that there was only a golf course, primary school, post office and a general store in her village so they had to create their own fun as kids.
From a very young age Helen was encouraged to play in the backyard and it was there she initially discovered working with clay. Her backyard was full of orange clay that she would dig up and make pinch pots and other items for play. It created hours of creative fun for Helen.
It was when Helen was 7 that she really discovered her love of ceramics. Her mother enrolled her brother and her in a pottery class at Oakwood Arts Center in Maldon (where the sea salt comes from). Helen recalls loving the damp smell that was in the room and all the wooden tools. Helen made an owl coil pot, a character mug with a big nose and a castle while attending the course. She still has these items at her parents home in England.
The course ended up being a defining moment for Helen. "The penny dropped" Helen said as she realised that she wasn't an academic kid and loved making things much more. "It was exciting to get things out of the kiln that you had made" Helen said.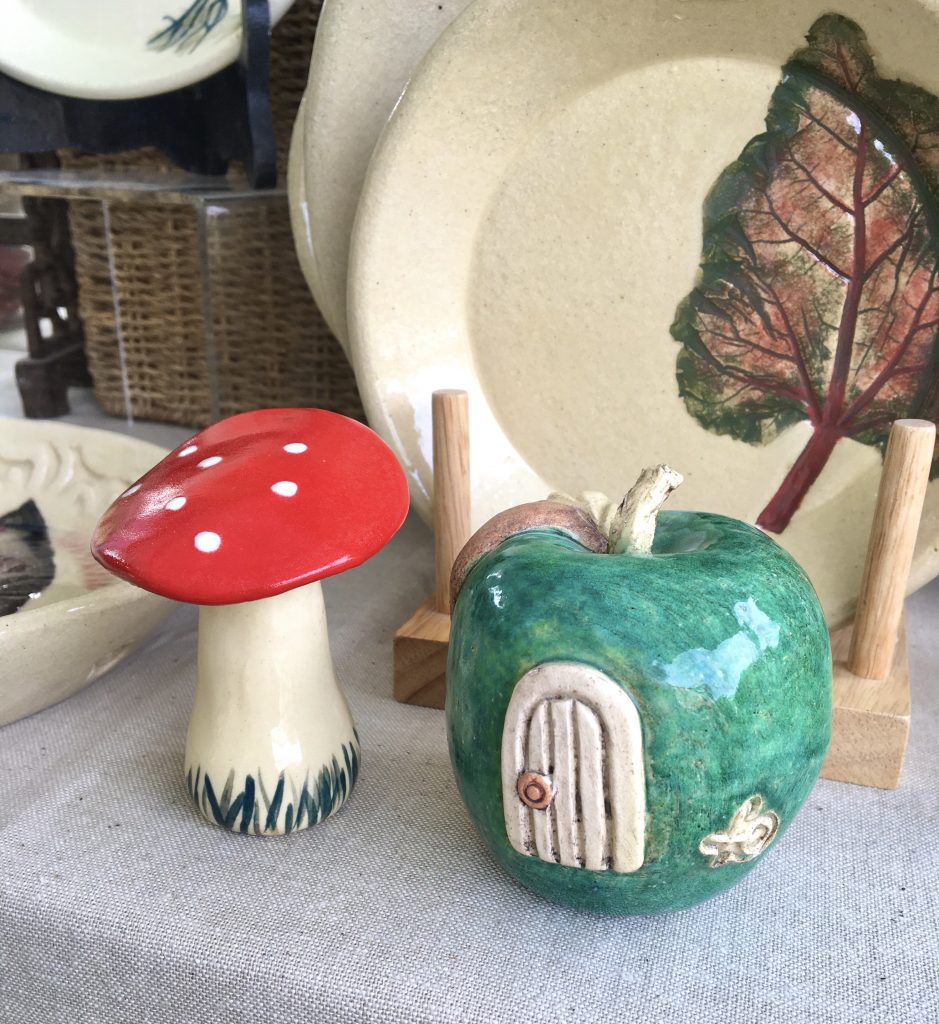 Helen also told me about another one of her special childhood memories that sparked her interest in pottery. There was a disused railway line that ran through Helen's village that in Victorian times carried rubbish from London to be dumped. Some of the old remains could still be found along the banks. Helen spent many hours digging, exposing small fragments of pottery, glass and medicine bottles that she took home and cleaned up. Helen treasured all of those small fragments that she uncovered.
By the age of 11 Helen had her first job at the local store stacking shelves and unpacking potatoes. "It was hard work as the sacks of potatoes were very heavy" Helen said. Her pay was 90 pence or $1.70 an hour in Australian dollars.
When she turned 13 Helen was able to work at the Village Golf Club as a silver service waiter. It was a big pay rise for Helen as she was payed £3.25 an hour which is a little over $6.00 in Australian money. The job taught Helen a lot about talking to people and organising events, skills she that would end up helping Helen in later years when she became a teacher.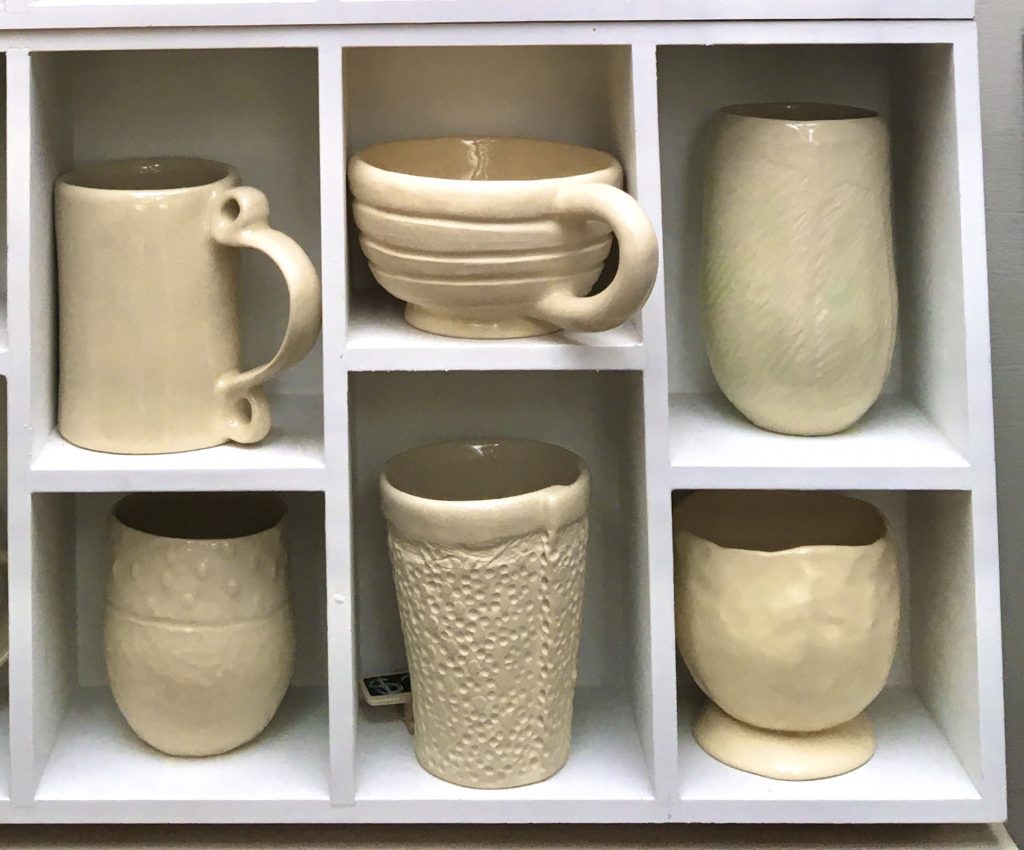 In 1990 when Helen was 16 she left school and enrolled in a 3 year course called the National Diploma of General Art and design at Southend College. The course taught Helen various skills in sculpting, ceramics, photography, drawing and painting. It really sparked Helen's love of arts and she decided to further her studies by enrolling in a Higher National Diploma at East Anglian Polytechnic in Lowestoft. The course was more technical based with a strong focus on ceramic production. Helen continued to work in bars and cafes to support herself.
After completing the course in 1995, Helen moved to Bristol where she enrolled in a 2 year fine arts honors degree in ceramics at the University of West Of England. One of Helen's favorite memories while completing her course was making a Raku piece with her teacher, master potter Walter Keeler. Raku is a Japanese pottery style and roughly translates as 'happy accident'. Helen still proudly displays that piece in her studio.
Helen also recalled in the last year of her arts degree, a very special trip to The Victorian and Albert Museum organised by her teacher Walter Keeler. Helen got to handle 400 year old ceramics that were taken out of the archives for her class to view. The students then had to choose a certain piece and base their final project on it. Helen chose a Whieldon Glazed Tea Caddy, as she loves a good cuppa herself.
After leaving uni Helen worked part time as a pottery technician at the Bristol Folk House which was an education center. Helen's main tasks were to pack kilns, mix glazes, prepare the clay and clean the pottery. While Helen was in this position she managed to set up a popular Saturday workshop for kids called 'Clay Club'.
Needing to find more work as she had very little money, Helen told me a funny story about how she managed to persuade someone at the education department in Bristol to print and post 300 of her resumes to prospective school employers. Amazingly her cheekiness worked and she got offered several jobs teaching ceramics in schools.
It was through one of these jobs that she started to run pottery classes for visually impaired seniors. Helen recalls fondly how this lovely group of students surprised her by fundraising £300 so Helen could buy her first kiln and pottery wheel. The ladies organised a series of lunches, held coffee mornings, baked cakes and knitted various items including toilet roll covers to raise the money. Helen is still very touched by the kindness of these generous ladies.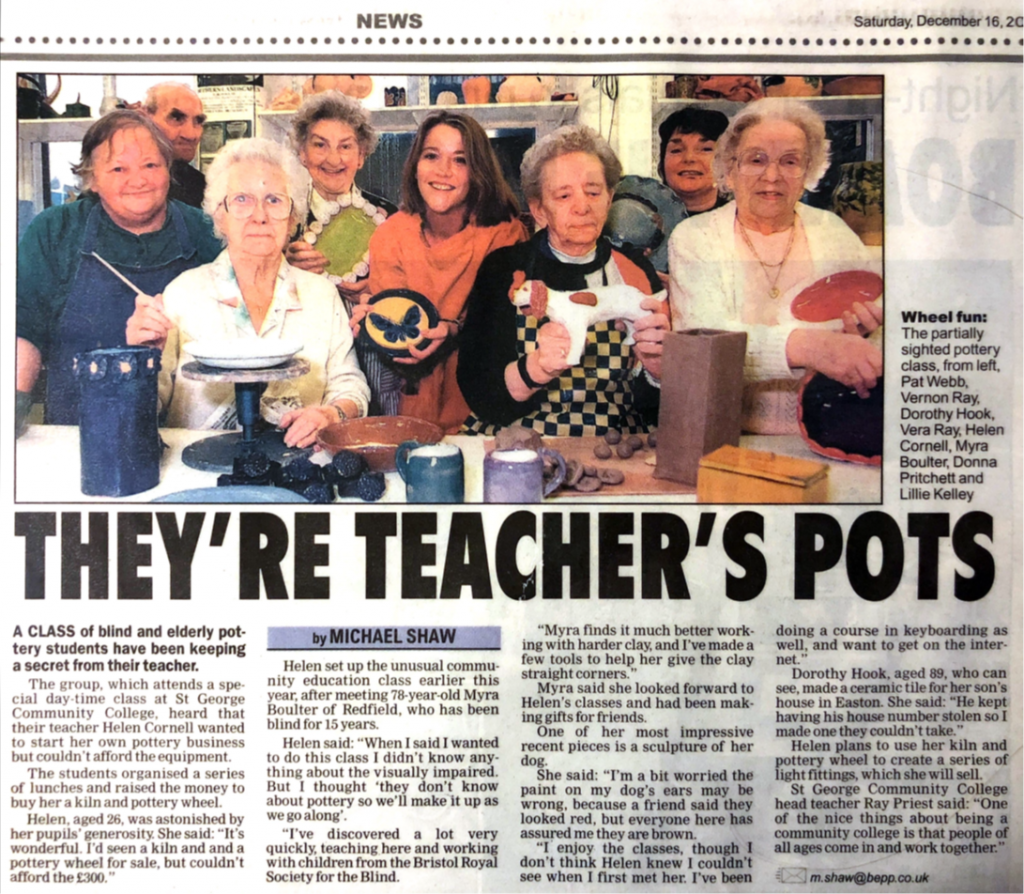 Helen really enjoyed teaching and felt she wanted to gain a professional qualification so in 1998 she went back to uni and enrolled in a post graduate teacher training course which she completed in 2000.
After many years of studying and working Helen wanted to take some time out to travel. Having set up a studio with the help of her visual impaired students Helen produced a body of work and had her first solo exhibition in 2001. The money raised allowed Helen to travel to Australia on a years working Visa. She had a great time exploring our beautiful country. Helen continued to work while she was in Australia working part time at Boxhill Tafe teaching ceramics and in bars and cafes.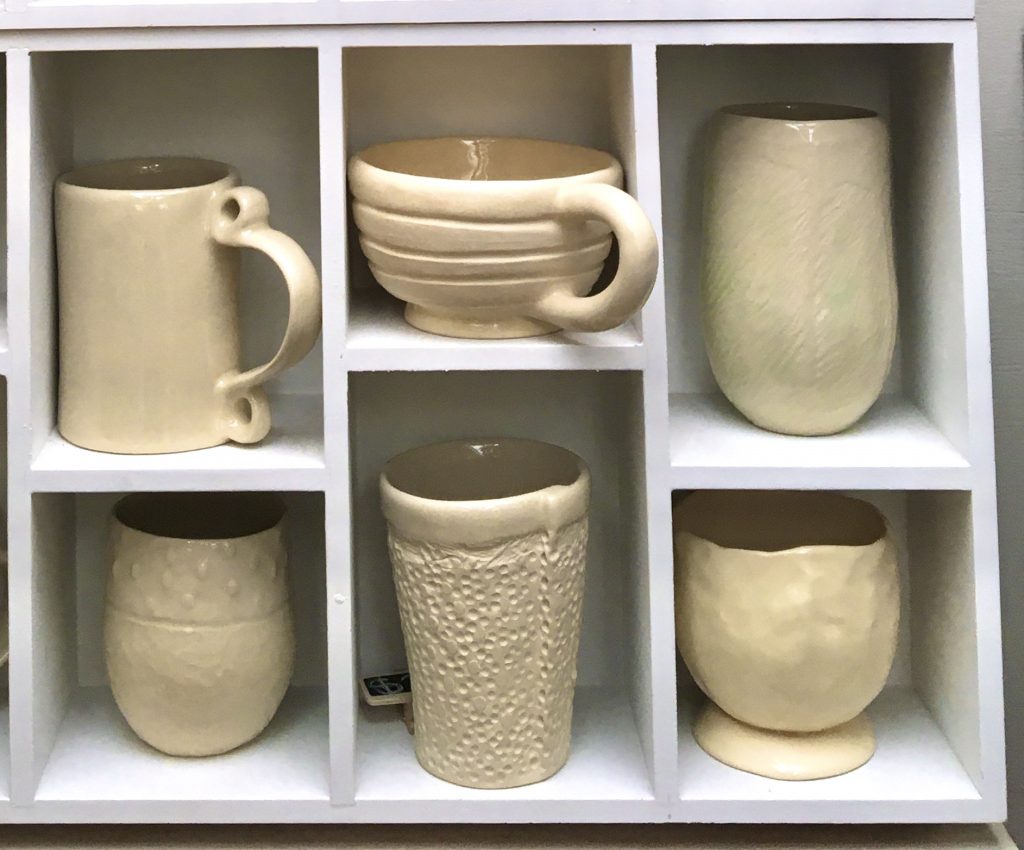 Helen then went back packing around South East Asia after that for a year. She told me she survived on a very lean £8 a day. "I stayed in some pretty dicey places while I was back packing" Helen said with a laugh. Helen then returned home to England for a few months living with her dad in Cold Norton where she grew up. She got her old job back at the golf club and began saving to come back to Australia.
In 2003 Helen then returned to Australia and applied for permanent residency. She found a place to rent in Kensington where she ended up living in a share housing for 13 years. Helen had several jobs in this time but her main teaching roles were in the specialist education sector as a classroom teacher for children with autism.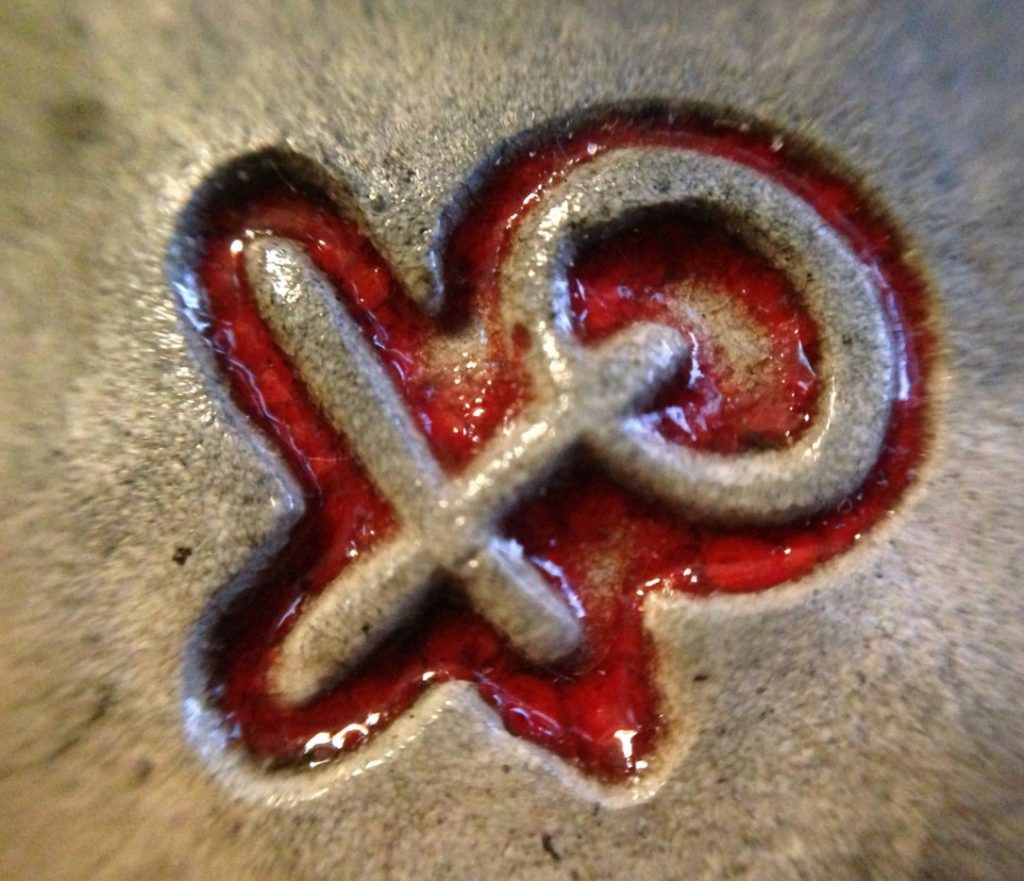 After 7 years of working full time with children with special needs, Helen decided to go back to relief teaching as it allowed her more time to pursue her own creativity and art. In 2011 Helen began using her time to produce more ceramics and started selling her work at art markets and shops.
Helen had her 2nd solo exhibition at Gas works in Port Melbourne in 2012/2013 which she was very proud of. The exhibition 'Handling Life And Earth' was inspired by Helen's fascination with rock pools. Helen melted glass into her pieces to create the look of water and used resins to set shells into the pieces to replicate the rock pools you see in nature. Not long after her exhibition Helen officially named her business Cornell Ceramics.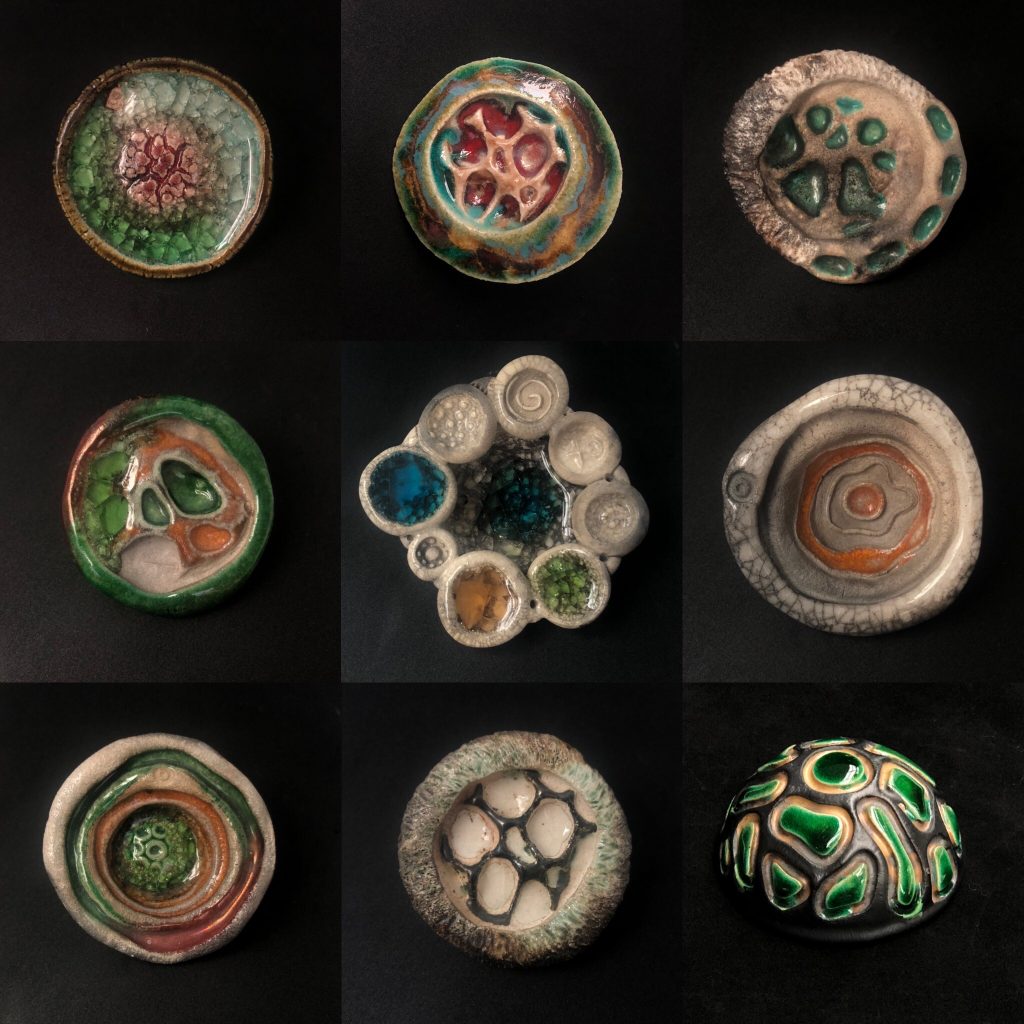 Helen always had a vision of moving to the counrtyside and making pots. In 2016 she decided to make that dream come true and bought her home in Warburton. The studio Helen had always envisaged took lots of hard work by her, her partner Chris, her uni friend Russell and her father Graham to achieve. The rickety old shed that was full of spider webs was slowly transformed into a light filled studio that Helen had dreamed of for many years.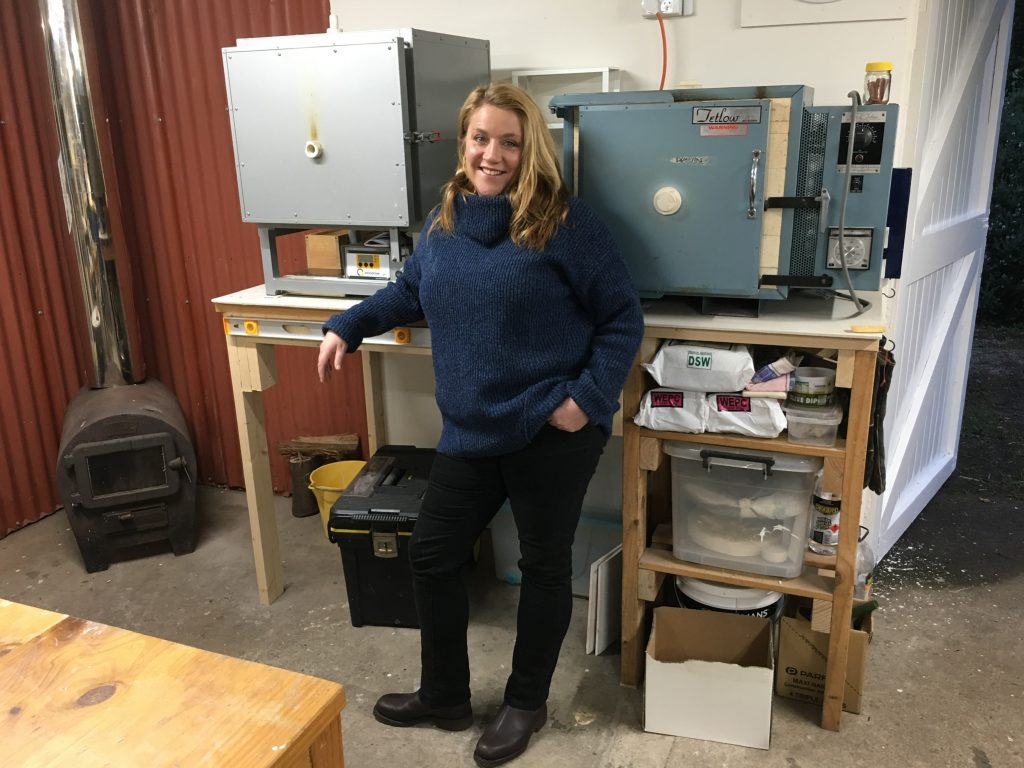 Helen's studio is very warm and cosy and is filled with a wonderful creative vibe. My eyes were constantly drawn to all the wonderful objects around the room that Helen has created. There are finished works on display everywhere you look and some projects that are still in progress. Helen is always playing around with clay and experimenting with different tools and styles in her studio. Helen feels a real sense of peace within herself when she is in her studio creating.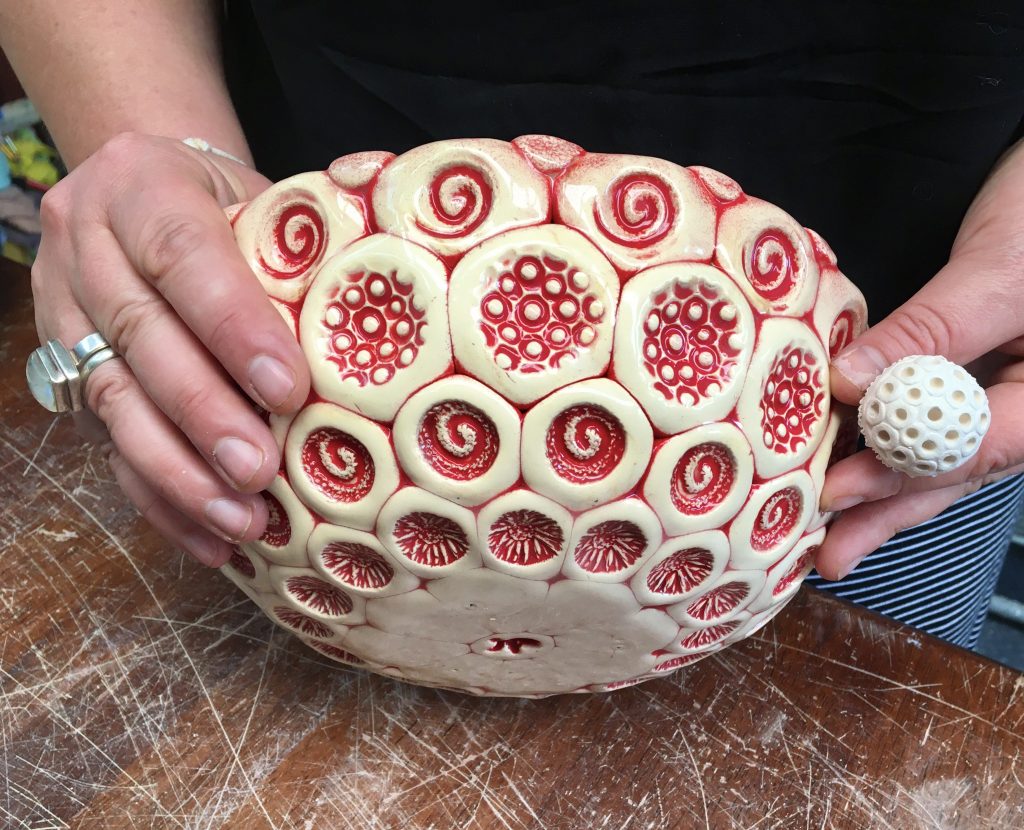 Like most potters, Helen makes all her own tools and stamps. Helen likes to play with scale by making larger versions of her smaller stamps to create different patterns and textures in the clay. Helen also makes her own moulds.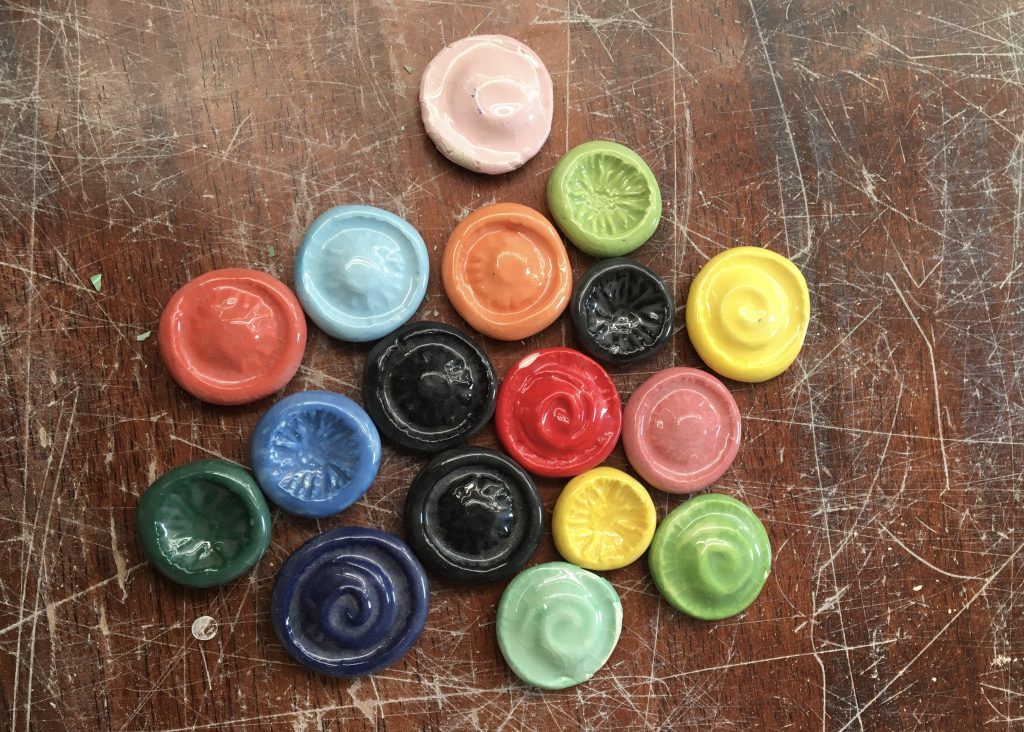 Helen's creative inspiration comes from nature and natural forms. She's always looking at plants and buds trying to work out how she can replicate that particular object in her clay creations. She will often take a few hundred photos a week of things she observes in nature to inspire her creations. "I love the process of making a piece almost as most as much as the finished product" Helen said.
One of Helen's favourite ceramic techniques is the art of Kintsugi. It's based around an ancient philosophy that rather than discarding a broken piece of pottery you restore the broken item, incorporating the damage into the aesthetics of the restored item. The damage is highlighted and celebrated as part of the object's history.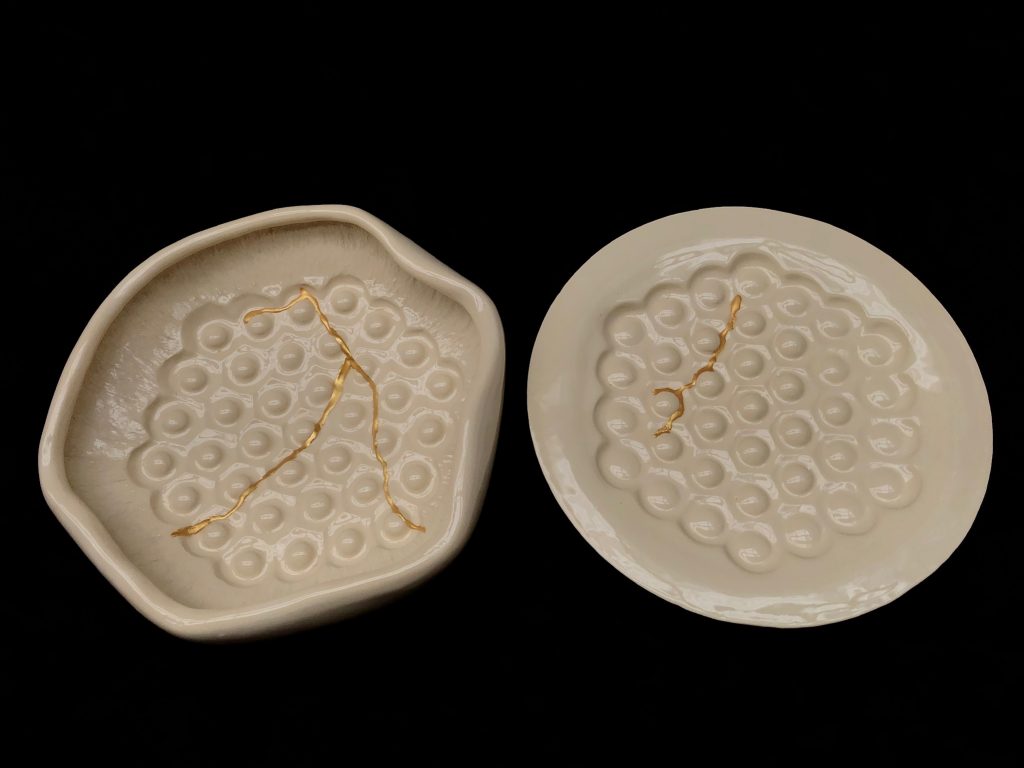 Helen used this very technique while creating a very unique piece for the 2019 Yarra Valley Arts Open Studios Exhibition. It was a free formed coiled and press moulded piece that cracked due to the immense thermal shock while it was being fired. Helen used the ancient technique of Kintsugi to repair and highlight the cracks that naturally formed in the firing process.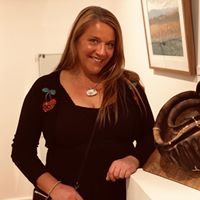 Helen has over twenty five years of experience and has spent many thousand of hours experimenting and exploring different building techniques, glaze effects and observing what happens to clay depending on how it is fired in the kiln. Helen believes all her skill and experience allows her to fast track her students learning as she knows what processes to follow when working with clay depending on the result they are trying to achieve.
Helen is concerned that some of the skills that her and many older potters have learnt will be lost over the coming years. "We are losing the pottery skills once taught by master potters as most of the ceramic courses and departments have slowly closed down over the the past two decades" Helen said. "As these skills disappear there is a real risk that we will lose this professional knowledge" Helen said.
Thankfully there has been a real revival in pottery in recent years which means little micro pottery businesses like Helen's are popping up all over Melbourne. This is allowing passionate ceramic artists and potters like Helen to pass their knowledge and experience on to their students and hopefully preserve and maintain the standard for generations to come.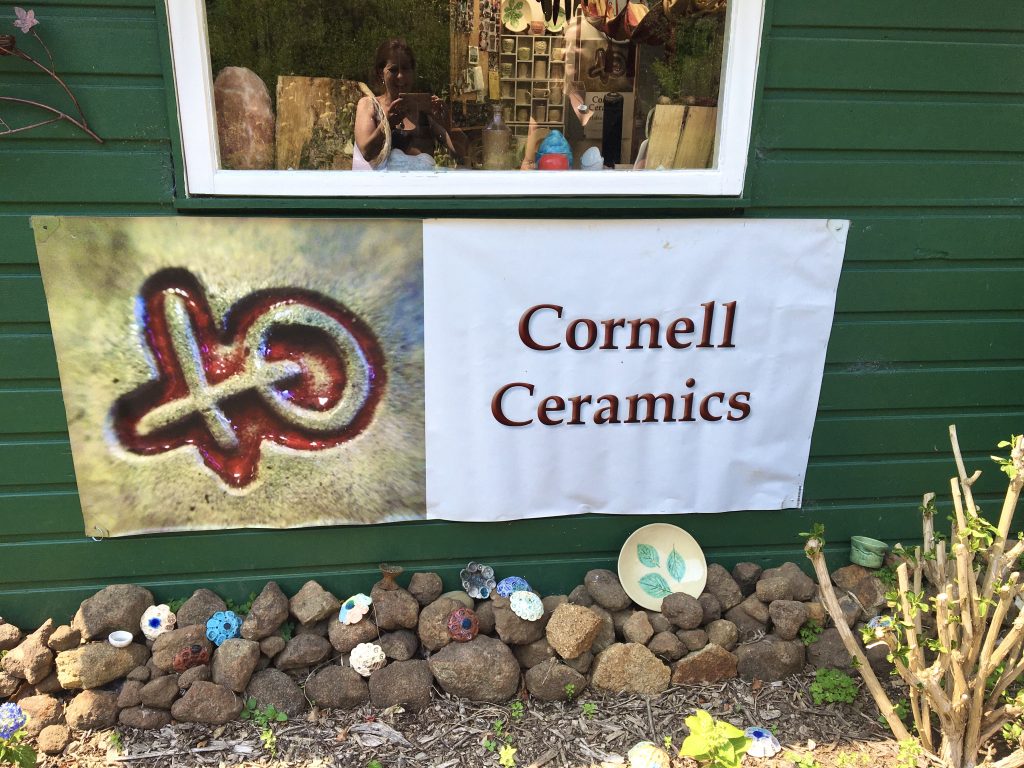 Helen's has a real passion for teaching and she took real pride in showing me some of the unique and beautiful work her students have created. Helen gets real joy in helping her students create their own unique piece.
Helen teaches her students to make their own moulds and tools so that their piece is original and is a reflection of their own creativity. Her students are encouraged to have a clear idea of what they would like to create and then she guides them through the process to achieve their vision.
Helen's love of nature is seen throughout her work but none more so than her leafy plates, which are stunning. Helen uses different leaves that she has in her own garden to create a botanical impression into the clay. She then uses different coloured under glazes to create a very realistic looking image of the leaf.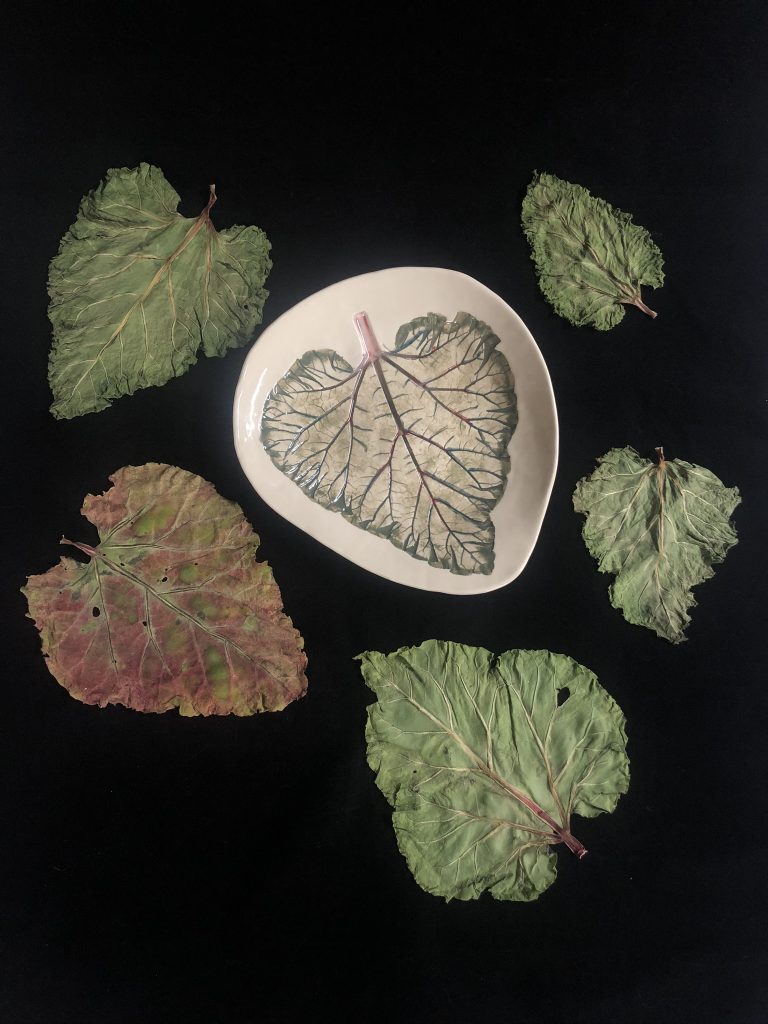 Helen offers a workshop allowing people to come and make their own leafy plate. The course is run over 2 days (5 hours in total). Helen will guide you through the process of making a plate or bowl which you will then add your own unique botanical impression into. The cost is $250 and includes all materials and firing.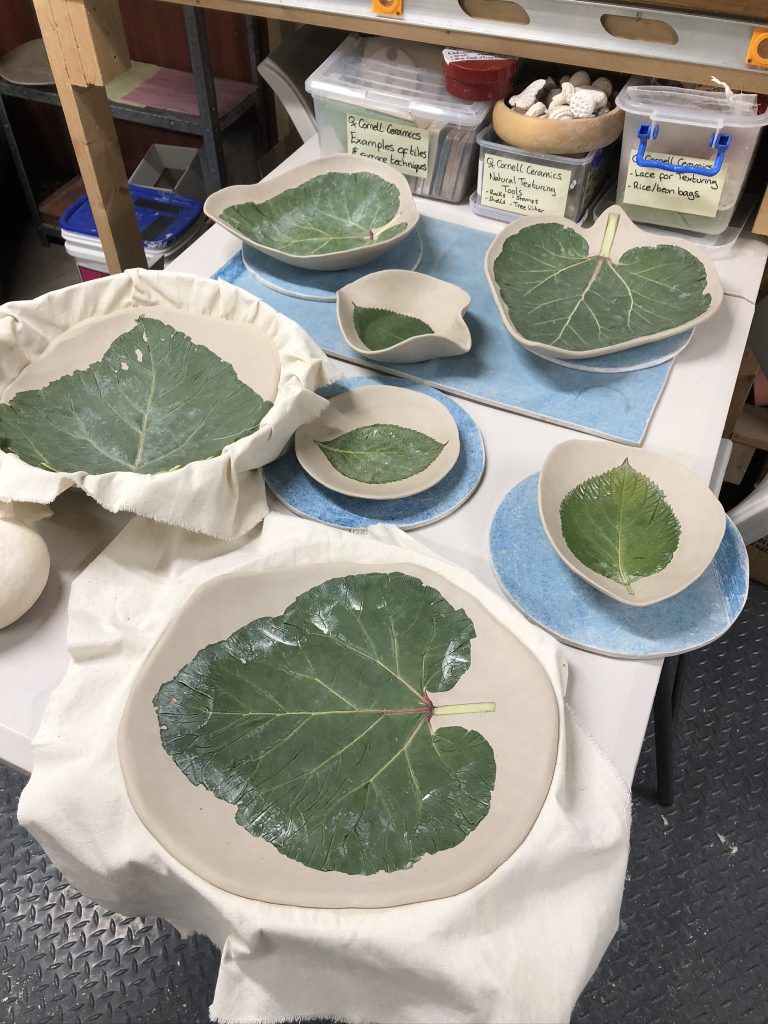 Helen also runs a fun shorter workshop called 'Make a Mug'. During this workshop you will make your own hand built ceramic mug using three different hand building methods. The methods include slab building, coil building or pinching. The workshop runs for 2 hours and cost $120. It includes all materials and firing.
Helen's casual teaching rate is $35.00 a hour. Helen limits the amount of students per class or workshop to a maximum of 4 as she feels she is able to give more one on one time to her students. Helen's rate includes all materials and firing. Helen is happy to teach anyone who is interested in learning about ceramics, even children are very welcome in Helen's studio. Helen believes everybody has the ability to create.
Helen also offers a workshops she calls The Art of Permanent Objects. During this course, Helen will show you many examples of ceramic and pottery and will explain and teach you the processes that are required to make certain pieces. Helen will teach you the fundamentals of hand building ceramics and guide you through the process of creating your own unique piece. The course runs for 4 hours in her wonderful studio and will definitely get your creative juices flowing. The cost is $165.00 which includes all materials and firing.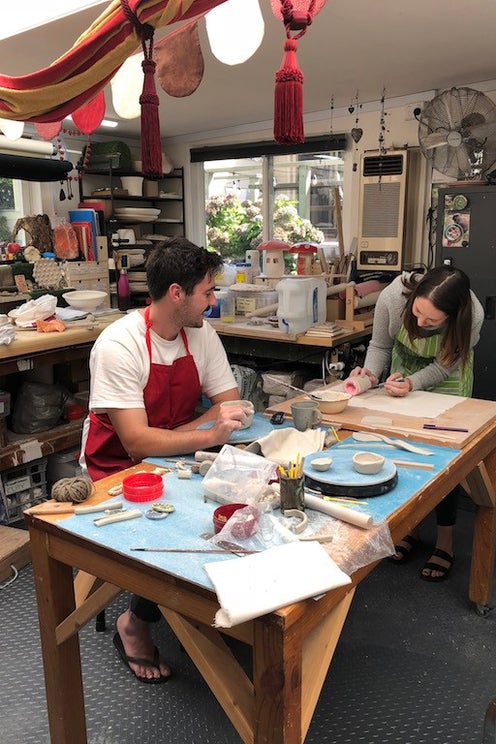 In addition to her workshops and teaching, Helen offers accommodation at her home which can be booked through AirBnb. Having spent many years share houses it seemed like a logical idea for Helen. Her home has two B&B rooms available accommodating up to four guests. One room can be configured as a twin or king room and the other is a queen room. Bookings include a continental breakfast of homemade bread and jam and tea & coffee.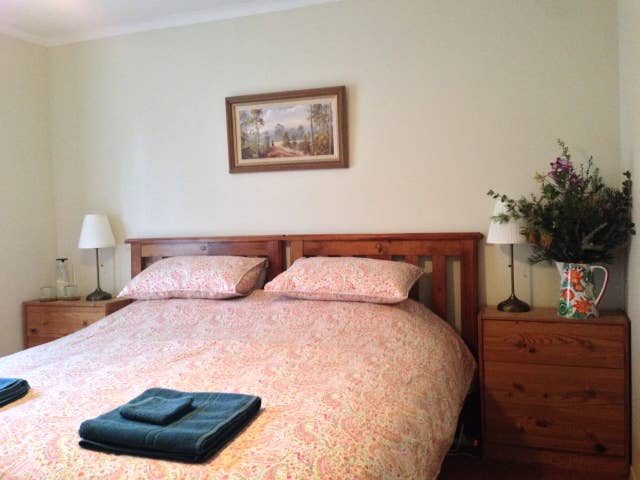 Guests are invited to stay with her and spend some time in her studio learning and creating their own unique piece. Helen gets travelers visiting from all over Australia and the world. She receives lots of positive feedback from her guests. If you do get to visit Helen in her studio keep an eye for her giant rabbit Isabel. Isabel is Helen's other great love.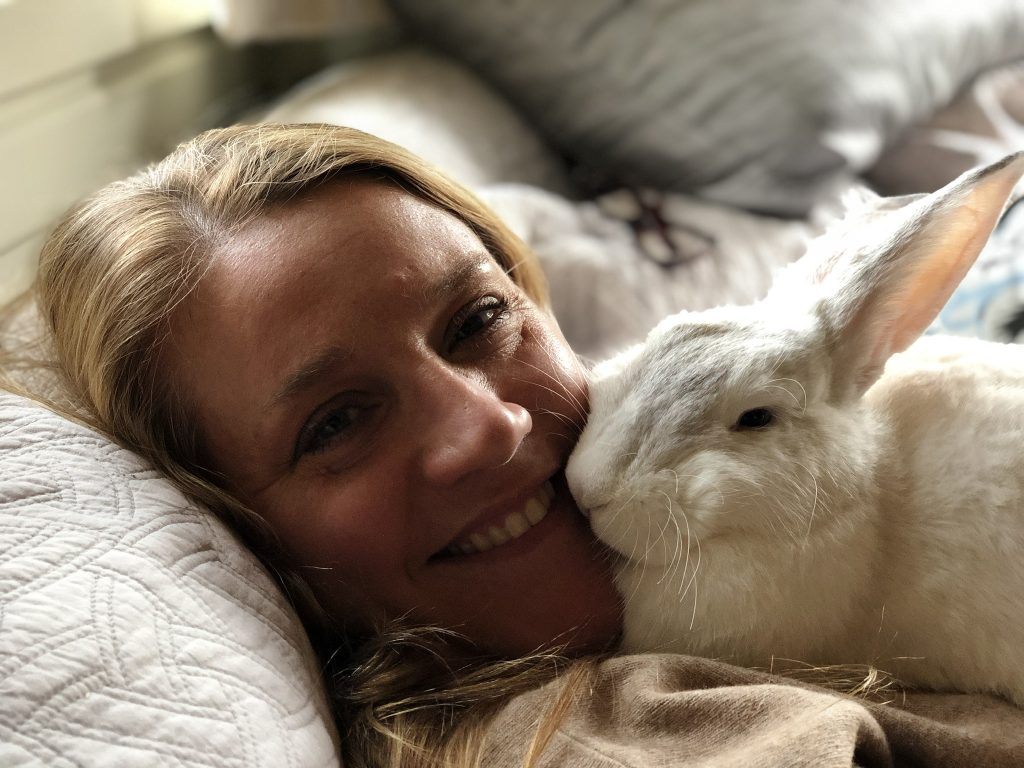 While chatting to Helen I got a real sense of the amount of work and thought that goes into each piece Helen creates. You can see that she really thinks about what she is trying to create and really enjoys the processes that are required to achieve her vision. Helen is such a fun and bubbly lady and boy does she love a chat. She taught me a lot about different pottery styles and techniques during our chat. Helen is a beautiful, creative and knowledgeable lady who was born to create.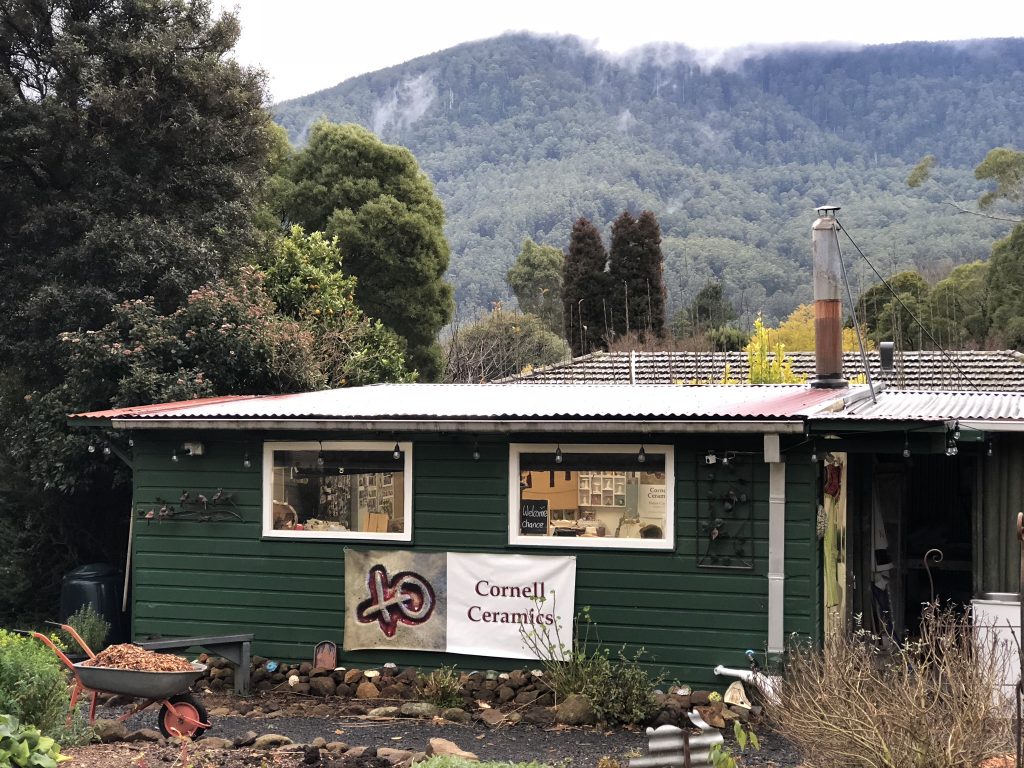 Helen has had a vision since finishing her teaching degree to make pots and teach others. Helen feels she is doing what she always set out to do which is very satisfying to her. She has combined her many years of schooling in ceramics and teaching to create a wonderful local ceramics business and B&B for people to come and stay and learn. "I am living the dream" Helen said.
If you are interested in any of Helen's workshops or would like to see some of her work she can be contacted at helen@cornellceramics.com or by phone 0400 673 816. Helen's work is also available for sale through her Facebook page Cornell Ceramics or her Instagram Page.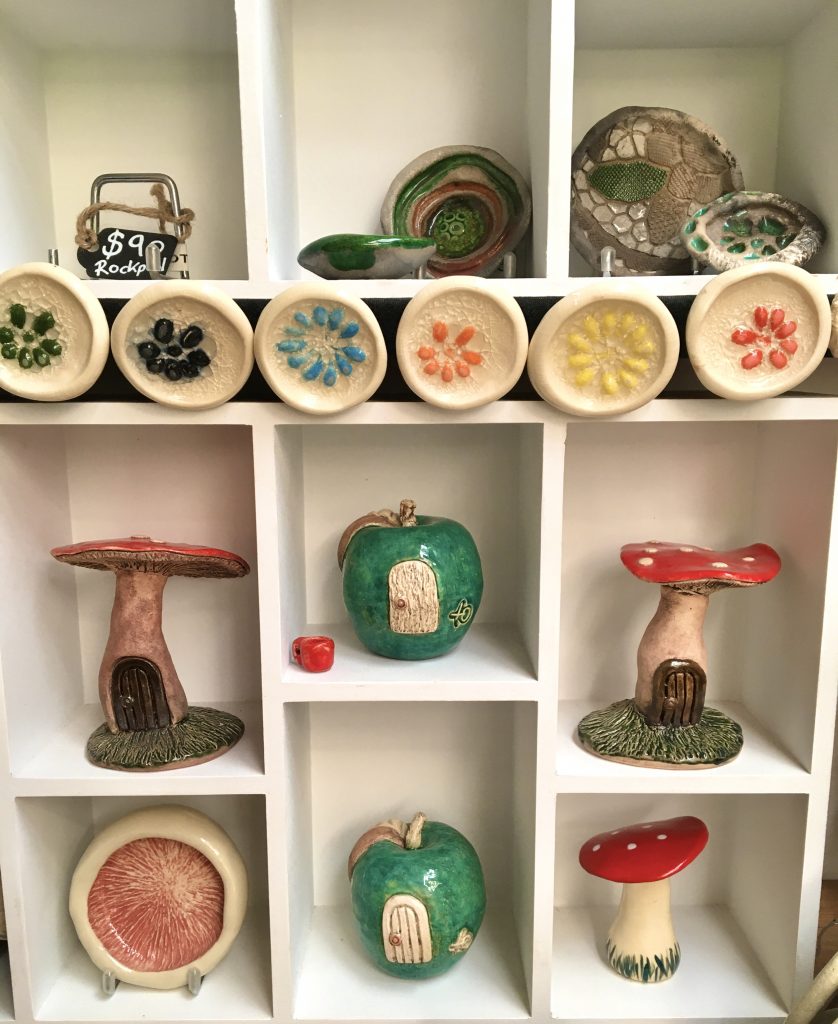 The Waterwheel Tourist Information Centre in Warburton,Victoria stocks a selection of Helen's work which you can buy directly through them. Helen has recently been asked to display a selection of her work at the Realm Library in Ringwood Town Square, 179 Maroondah Hwy, Ringwood. Her work will be displayed from the 7th of Jan to the 14th Feb if you are interested in seeing it.