I first met Deb and her daughter Kylie in December at the Warburton Hand Made Craft Market at the Waterwheel in Warburton. I got chatting to them both about their handmade crafts and discovered that 100% of the money that they raise from selling their items at markets goes directly to their charity Island Heart. They are a mother and daughter team that work very hard to raise money for the people of Vanuatu and to help highlight the needs of the people living in island communities.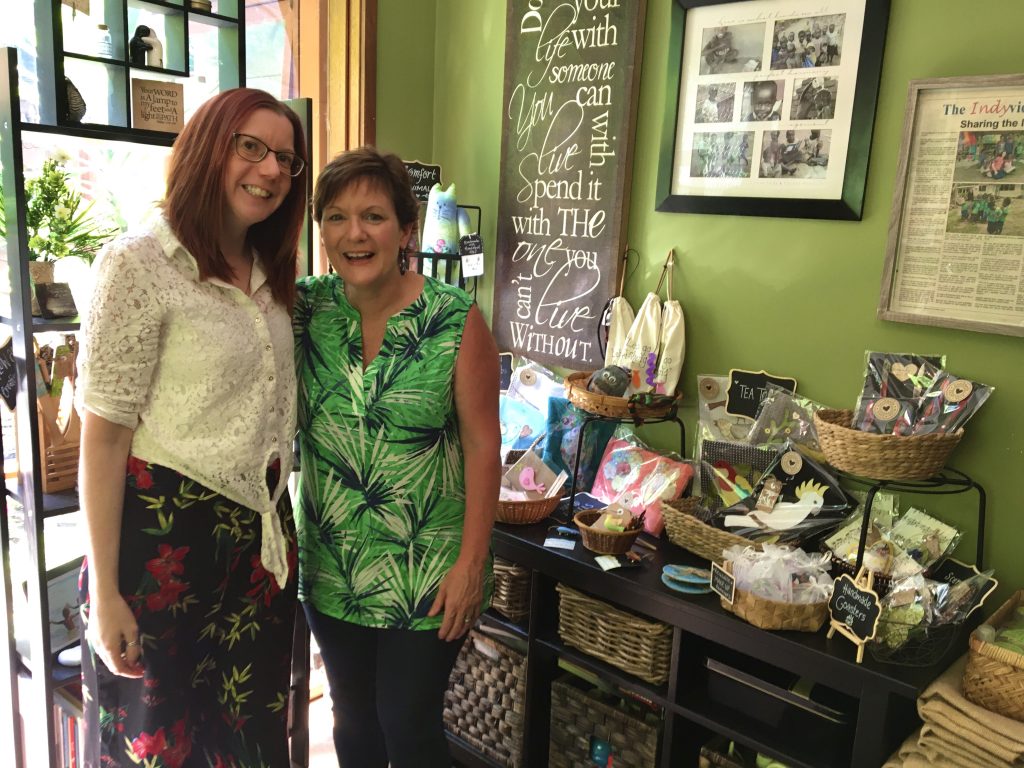 How Island Heart came to be is an interesting story. Deb was in the process of trying to change cars from a Tarago to a ute but wasn't having much luck. As fate would have it, the Tarago would play a hand in how Island Heart got started.
At around the same time she was asked to transport 6 men from Vanuatu that were part of a scheme run by the government called The Seasonal Workers Program to Deb's church. They didn't have the means to get there themselves and Deb had the room in her Tarago so she was more than happy to help them out.
The men were working in Hoodles Creek at an apple farm run by David and Sue Finger. David and Sue were instrumental in helping the men obtain work in the Yarra Valley.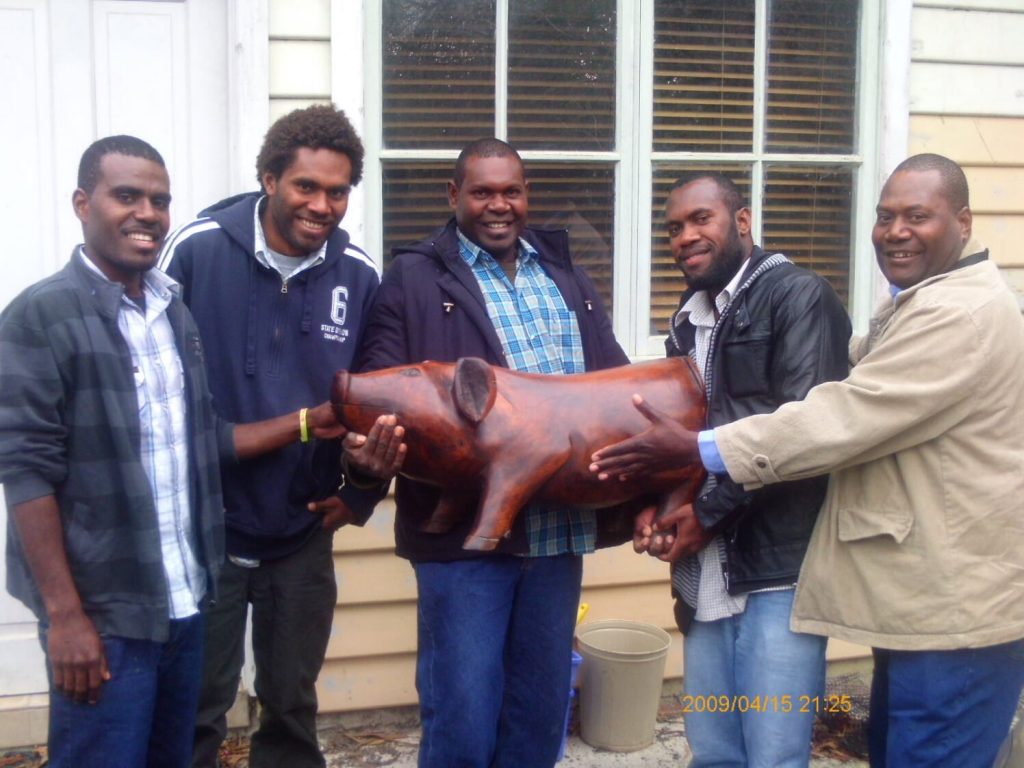 After transporting the workers to church, Deb and Kylie got to learn a bit about their culture and what life is like in Vanuatu. There is an image in the media that Vanuatu is a beautiful tropical island and is a great destination, but as Kylie and Deb spent more time talking to these men, they shared more and more about their country and why they had to come to Australia to work.
Vanuatu is an archipelago in the South Pacific ocean 1770 km north east of Australia and has a population of just over 270,000 people. Economic opportunities in Vanuatu are limited meaning that many are forced to survive on a few dollars a day and employment is very limited in many areas.
The men had little or no work in their own country so they made the choice to travel to Australia to earn money so they could support their families and community and provide their children with the opportunity to go to school. It is not easy in Vanuatu for children to get an education and yet it is so vital to provide hope for the future.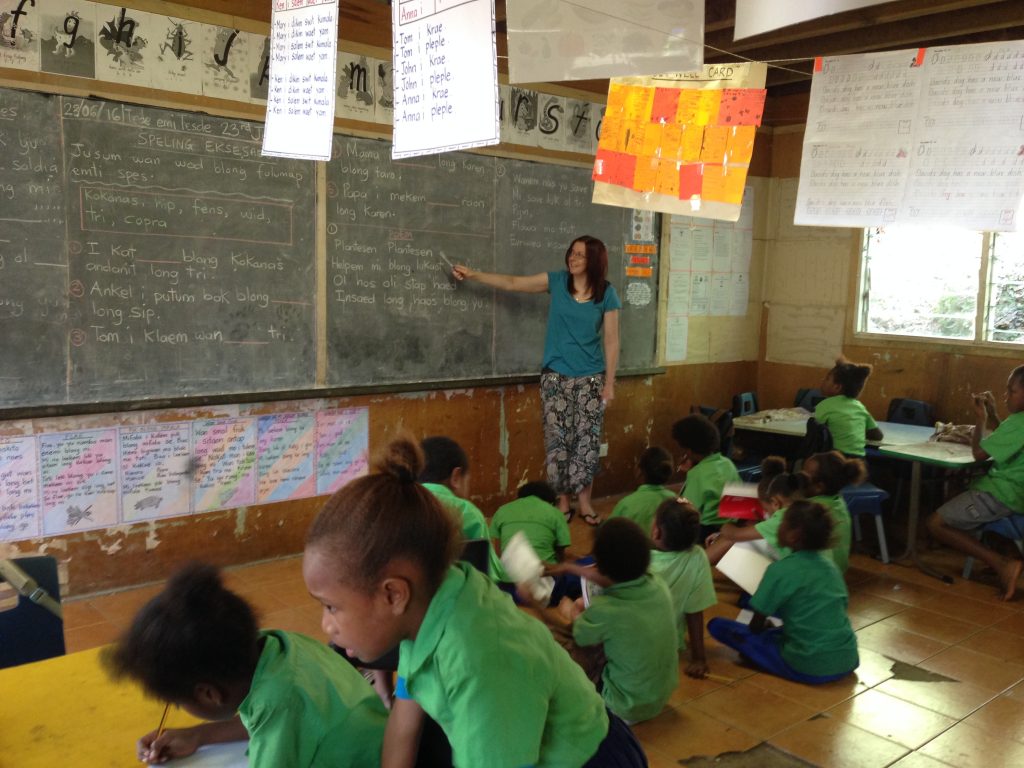 Kylie and Deb got to know the men well over a period of time. One of the men, Patrick, shared with them that he was soon to get married. Patrick even invited them both to his wedding in Vanuatu. They decide to take the opportunity to go for a holiday and celebrate Patrick's wedding. Deb even gave Patrick's fiance her own wedding dress to wear on their big day. It had been in the cupboard for 30 years and Deb felt it was time to put it to good use.
After the wedding they spent time with Patrick's family and went around and visited various community groups. They went to the heart of the communities, not the touristy part of Vanuatu. "Our eyes were opened to the real need there was in these communities" Kylie said.
They came back home a little stunned by the scale of poverty in Vanuatu and began thinking about what could they do to help, and how could they support the workers over here even more.
They both had a love and a heart beat for doing craft so they decided to make craft with a purpose. Kylie set up the charity Island Heart and began producing paintings that she then sold to friends and family. Deb began to make hand made items to sell as well to raise more money. All the funds that were raised from selling their creative works went straight back into the communities the next trip they took to Vanuatu.
In 2014 they made a connection with a local group called WYHLD. WYHLD was a collaboration of 5 local schools in the Yarra Valley. The main aim of WYHLD was to connect the 5 communities
Kylie and Deb started running stalls every Thursday after school for the kids and parents to buy their handmade crafts. They would alternate between the schools each week. The stalls also helped to raise awareness of their charity Island Heart in the community. After a while they stopped doing the stalls at the schools and started to focuses more on markets around the Valley.
In 2015 when cyclone 'Pam' hit Vanuatu, Kylie and Deb flew over to Vanuatu for a few weeks to see what they could do to help. It was a category 5 cyclone that ripped through the islands and flattened everything in its path. Most people had no home left after the cyclone went though.
They went to Pele Island to see what was left of the school there, and only one building was left standing. They went into the school and found that all of the children at the school were being taught in the one room. Unicef and another aide organisation had supplied the school with make shift tents but they were temporary. For Kylie and Deb they were like sweat boxes, however the children and staff were incredible grateful.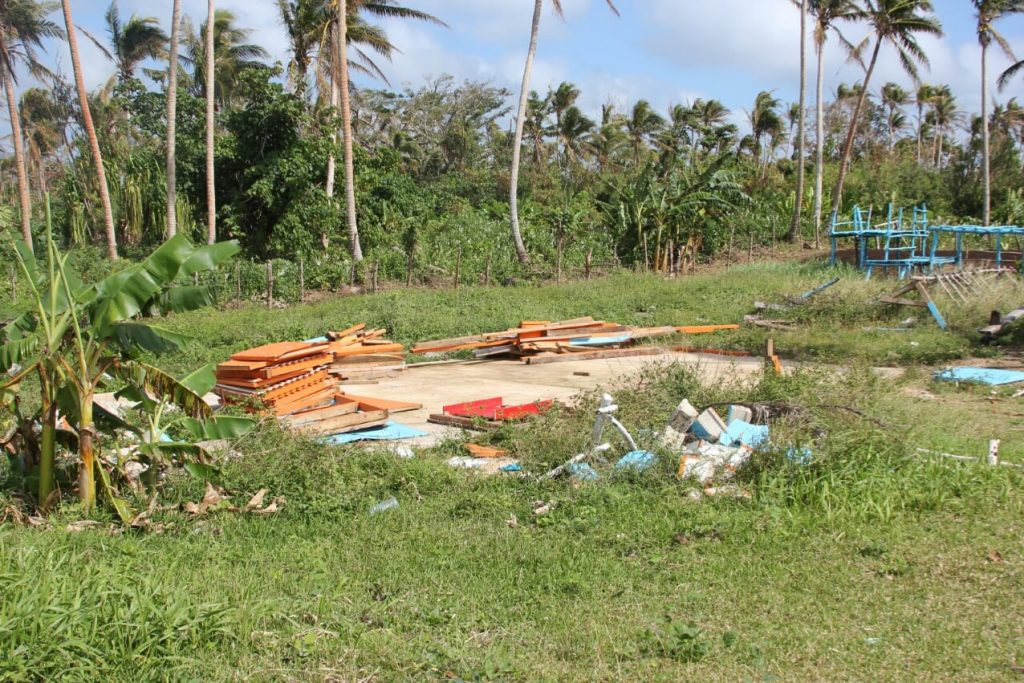 Kylie's brother Jason and friend Brett also traveled over with them to see if they could help. They were hoping they could put their carpentry skills to good use in a country that had been so badly damaged. Feeling helpless at the devastation that was around them, Jason and Brett wondered what they could do to help. They looked around the school and found lots of scrap pieces of wood scattered around by the destructive cyclone. They decided to whip up a book case for the kids to put their books in as they had lost just about everything.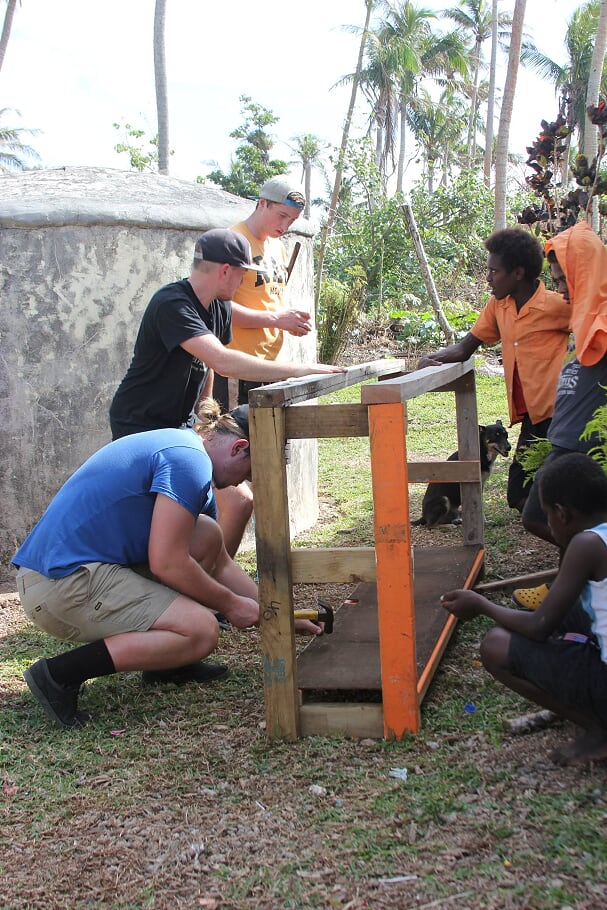 Once it was finished Jason and Brett presented it to the principal and the whole school was overcome with emotion, because to them, it symbolised the start of their rebuild. The Vanuatu people are always very grateful for any help they receive and always hold a ceremony to say thank you when you gift them something. Simple acts of kindness mean the world to the people of Vanuatu.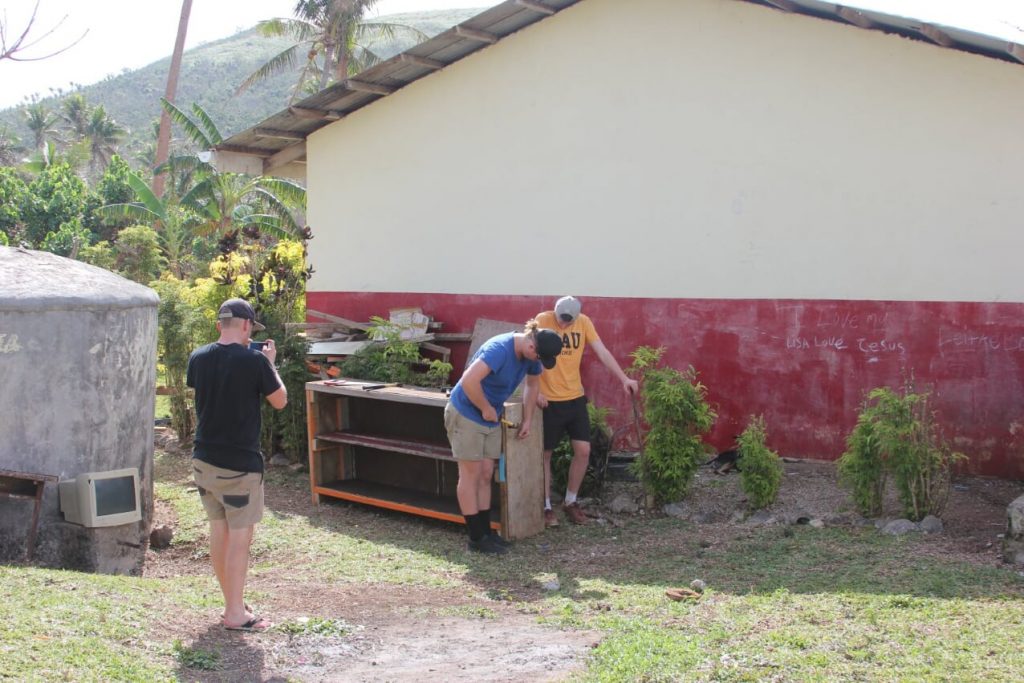 Later on that year Jason and Brett from the Island Heart team returned to Vanuatu and donated some money to the Chief. The money that they donated played a small part in helping to rebuild the school. The school was very appreciative of their very kind donation.
Every year since 2012 Kylie and Deb return to Vanuatu in June-July for a month to donate money and help out in the communities. Kylie and Deb pay for themselves to travel over to Vanuatu and don't use any of the funds raised from Island Heart.
They both have small businesses that they sell items through to help raise money to pay for their airfares and accommodation over in Vanuatu. Deb sells her crafts at The Waterwheel Tourists and Information Center in Warburton, under the name Debz Dezignz.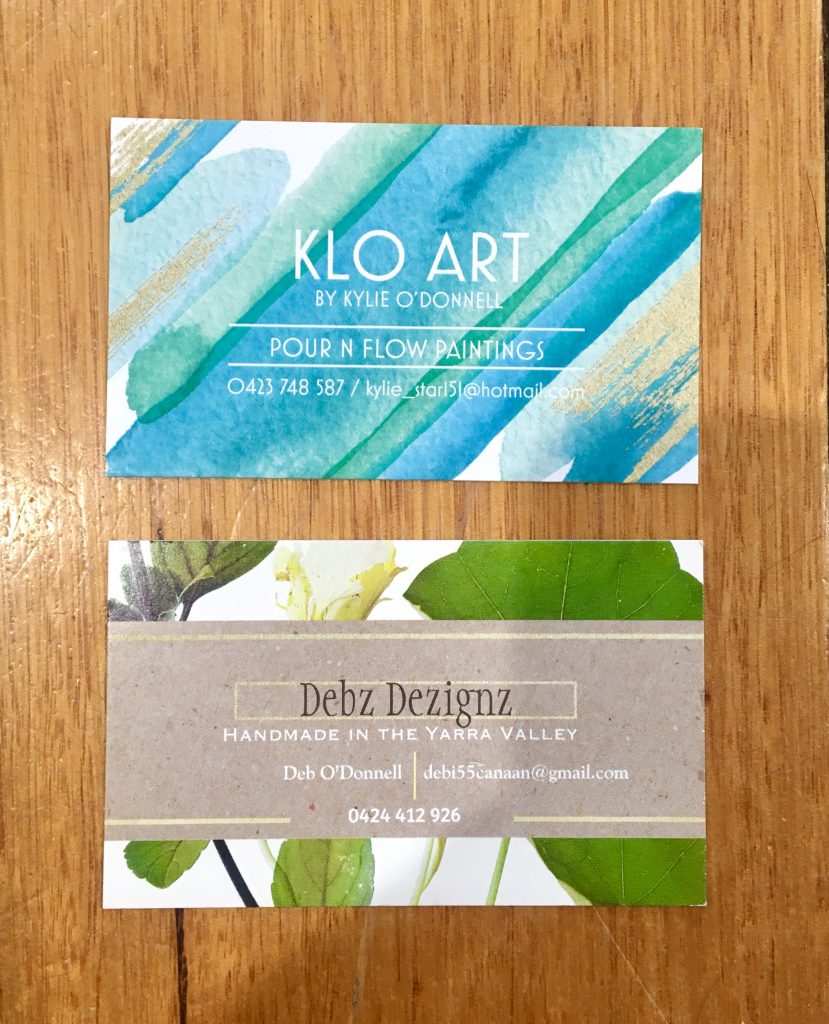 Deb also has a couple very generous friends who put a small amount a way each week for Deb, to help fund her trip. "That is their way of supporting the people of Vanuatu" Deb said. Deb is so very grateful to her friends for their generosity. Kylie sells her art through her business KLO ART at stalls throughout the year to raise money for her airfare and accommodation. By purchasing their crafts you are helping to support the work they are doing in communities over in Vanuatu.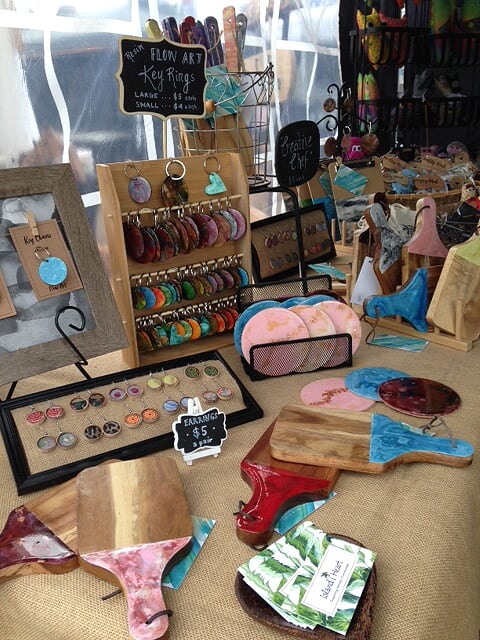 One of the main ways Kylie and Deb support Vanuatu is helping the local schools. They often will help out by buying supplies for some of the schools. They also volunteer at some of the schools while they are over there teaching English, and Bible studies to the children. They do also try to teach some basic life skills to help them in their own lives.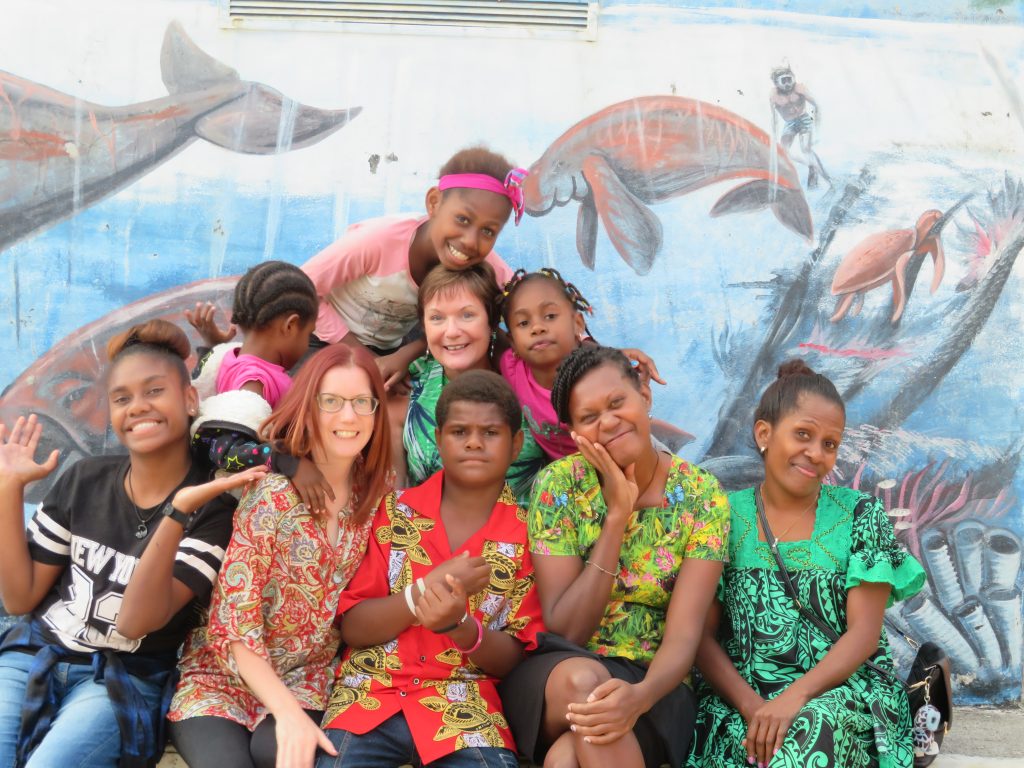 A lot of the kids get lost in the education system in Vanuatu mainly because of the large class sizes. There is often 40+ children to one teacher in a typical classroom in Vanuatu which makes it incredible hard to teach properly.
"Children with special needs can sometimes be over looked or not recognised. Recently many schools have become more aware of these needs, however lack the extra teaching support within a classroom setting" Kylie said.
Even though it is challenging volunteering at the schools they both love working with all the beautiful kids. They both believe educating children is one of the best ways to help break the cycle of poverty.
They also spend time in communities showing them cost effect ways to make food and other items. They feel this helps the people in these communities create things themselves so they can sell them in their own stalls and earn an income.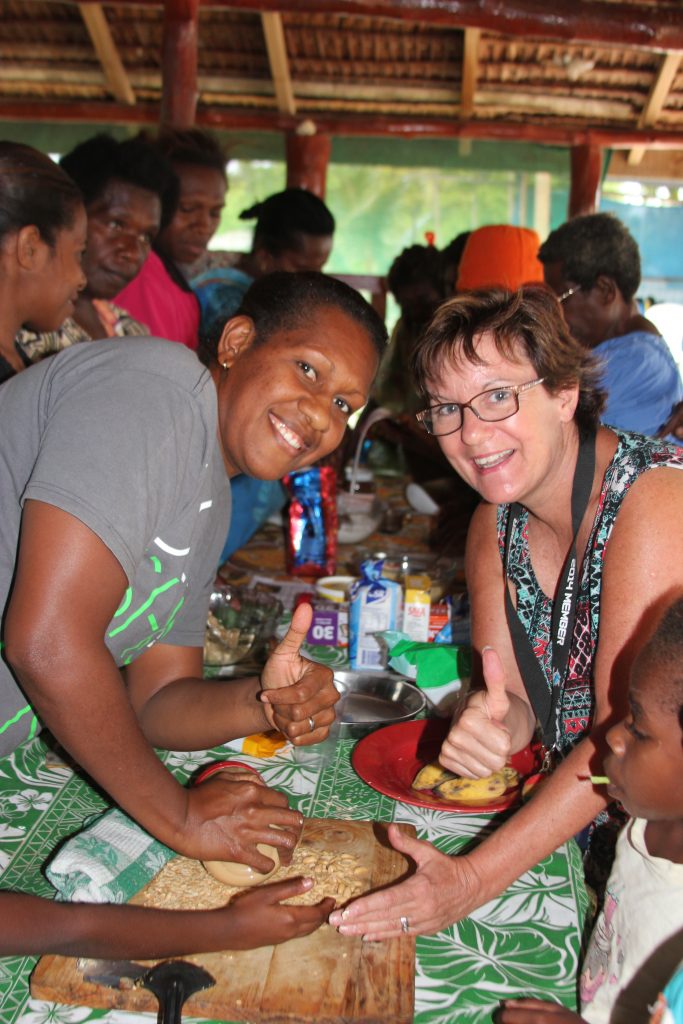 In previous years they take over suit cases filled with tool kits to help the communities make Ukuleles to sell. The Ukuleles is a very important instrument in Vanuatu. Deb and Kylie will also buy local timber used to make the Ukuleles. This helps support local business and gives the communities a chance to make items they can sell to earn a living.
They often don't plan ahead where their donations will go. "We usually see a need in a community when we are there and go and purchase what is required to help them out" Kylie said.
One of Island Heart's goals this year is to connect with the 'Days for Girls' global movement. 'Days For Girls' have many bases throughout the world, one being located locally in Bayswater, Victoria. They make up sanitary packs to be handed out to girls overseas in developing nations like Vanuatu.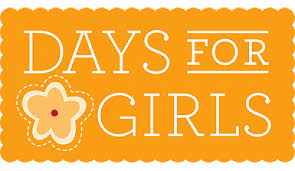 Kylie and Deb will be completing 'Days For Girls" online course before they go this year. The course will provide them with training so they can explain to the girls how to use the packs to manage their period so they don't miss days at school.
They have been invited this year to go back to Pele School in Vanuatu to hand out packs to girls from grade 5 to year 8. They will educate the girls as well while they are there. Kylie and Deb are fundraising at the moment to buy more packs from 'Days For Girls" to hand out at the school.
The sad reality in Vanuatu is that a lot of girls of school age cannot afford sanitary products. This means that many girls are forced to take a week off school and stay home while they have their period, which is hard to believe in this day and age. As you can imagine they become very disconnected from their communities during the time, which is not good for their own mental health.
If you would like to support Island Hearts 'Days For Girls' initiative then please contact Island Heart to make a donation. By donating it will allow Kylie and Deb to hand out more packs to girls in need while they are over there this year.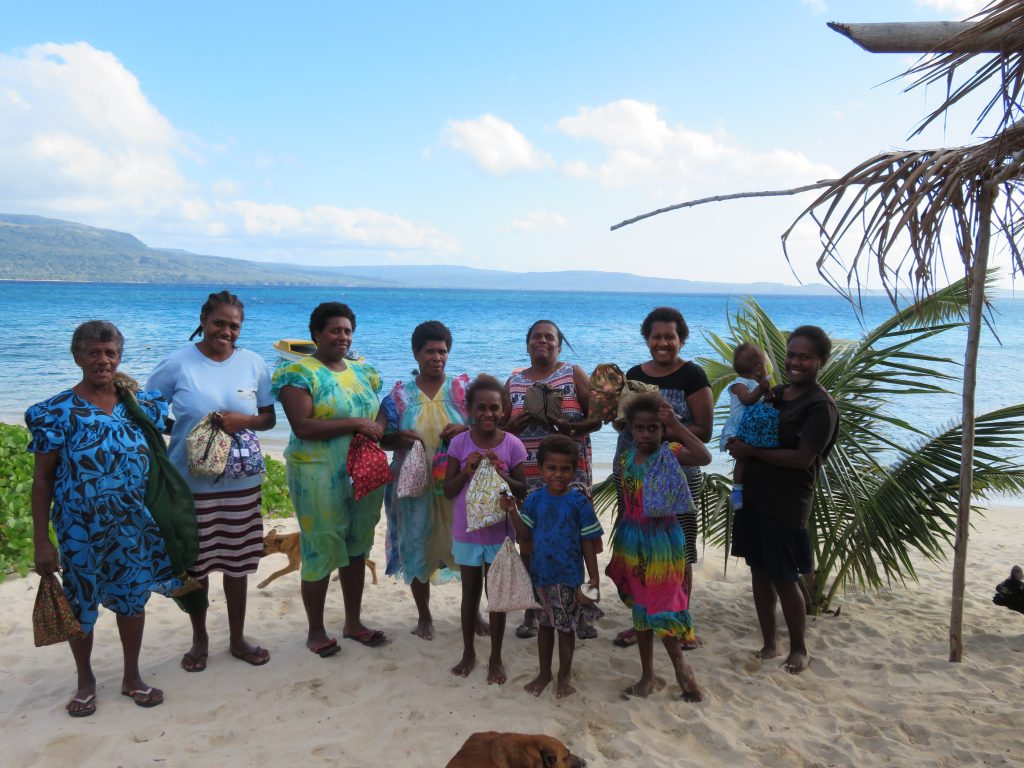 They are also making their own packs as well to take over which they will hand out to girls in need in communities. You can help by providing draw string bags or dark coloured cotton flannelette material which they will use to make reusable pads.
Donations are always appreciated by Kylie and Deb but one of the best ways that you can support Island Heart is to buy their beautiful handmade crafts at markets or at their home.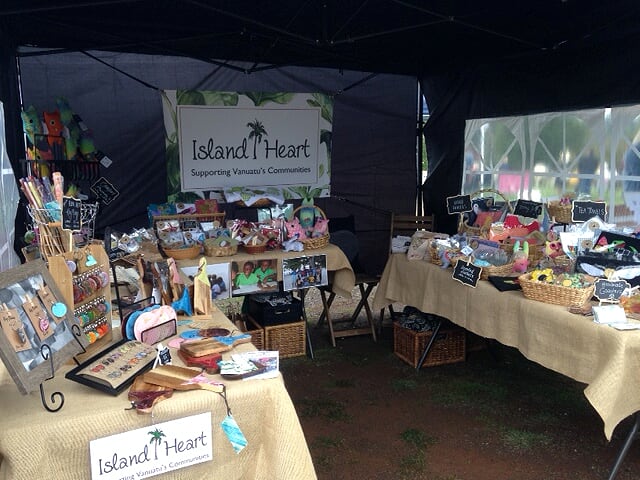 Kylie and Deb buy all the materials for their crafts out of their own pocket to maximise the amount they raise for Island Heart. They produce all their handmade items to a very high standard but still try to keep the prices affordable, as they are aware that many people struggle financially themselves.
All of Deb's items are hand stitched and take many hours to complete. "It is my relaxation time when I sit down to sew" Deb said. When she is sewing she often thinks about the many women that are working over in Vanuatu to support their families.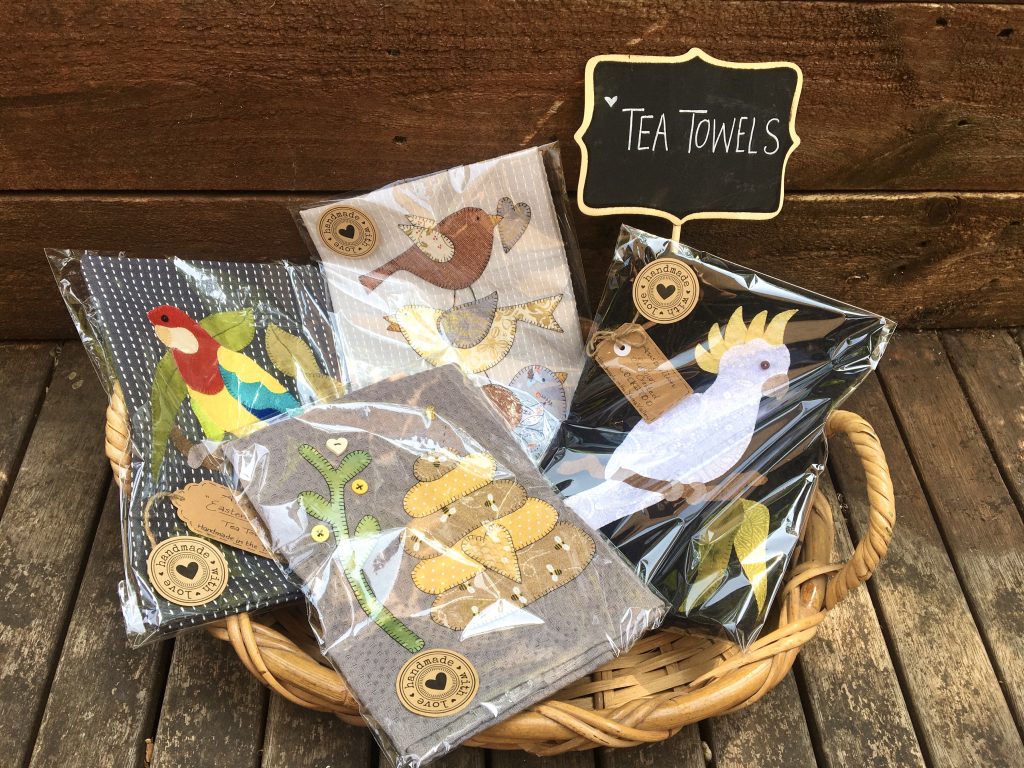 Most women in Vanuatu get paid around $1 per hour which means that they often have to find other ways to earn money. It is not uncommon for women to work all day in Vanuatu and then go home and cook food to sell on the streets to try and help pay for their children's school fees. Unbelievably, some of Vanuatu's school fees are equivalent to our school fees here in Australia. As you can imagine on those sorts of wages many children miss out on an education.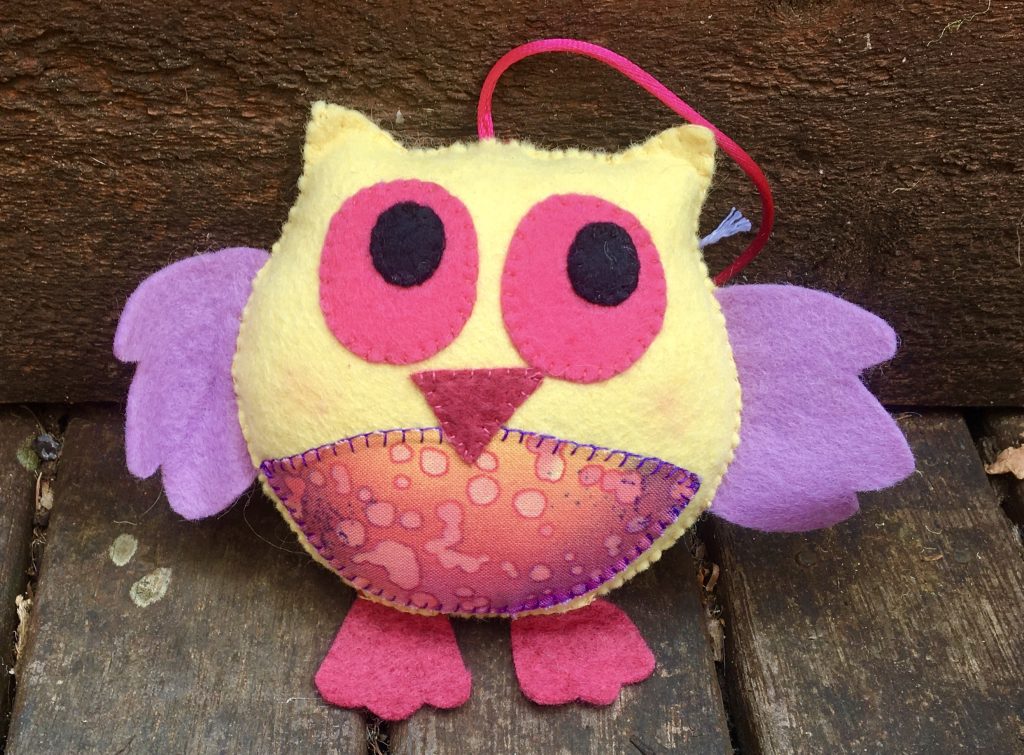 You can also support Kylie and Deb by providing them with materials and in particular hand dyed felts. Debs uses a lot of hand dyed felts to make her gorgeous comfort animals. Please contact Kylie on 0423 748 587 if you have any material you would like to donate. They would greatly appreciate your generosity.
Often Kylie and Deb get asked why they support Vanuatu when there are people in Melbourne struggling. "My heartbeat and mum's heart beat is for the people of Vanautu. Your heart beat may be for the people of Melbourne and that's awesome, and that's how we all play a part in this world" Kylie said.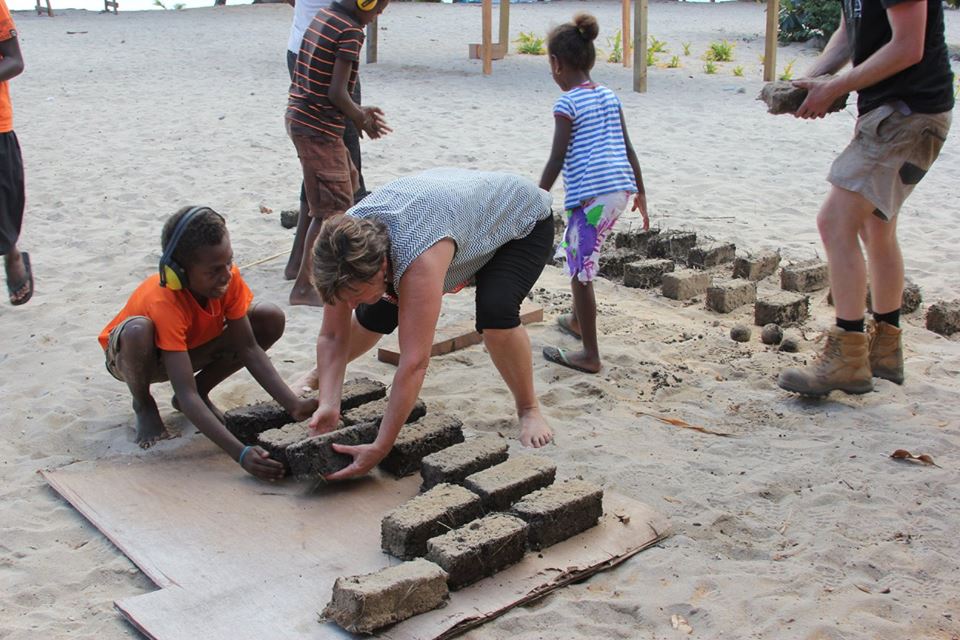 Kylie and Deb feel it is a real privilege to help out struggling communities in Vanuatu. "In their eyes what we do is huge" Deb said. "It shows us that we all have something to offer to people in need" Deb said.
Kylie and Deb know that they only have the capacity to grow Island Heart so much because they are limited by the amount of handmade items they can make to sell. But they hope this story may help to raise awareness about the struggles and the needs in Vanautu communities.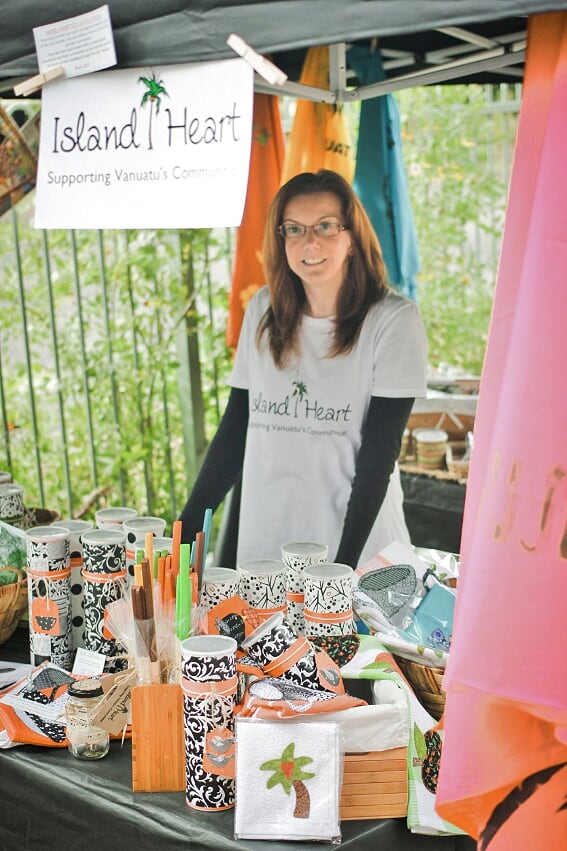 If you do ever go to Vanuatu, go for a walk down some of the places that tourists are not taken and see for yourself the poverty and the hardship the Vanuatu people endure everyday.
Kylie and Deb are very grateful to the core group of friends and family that have supported Island Heart right from the beginning when Kylie started selling her paintings. Those friends and family still provide Kylie and Deb with financial help to get over to Vanuatu and they also help spread the word about their wonderful charity Island Heart.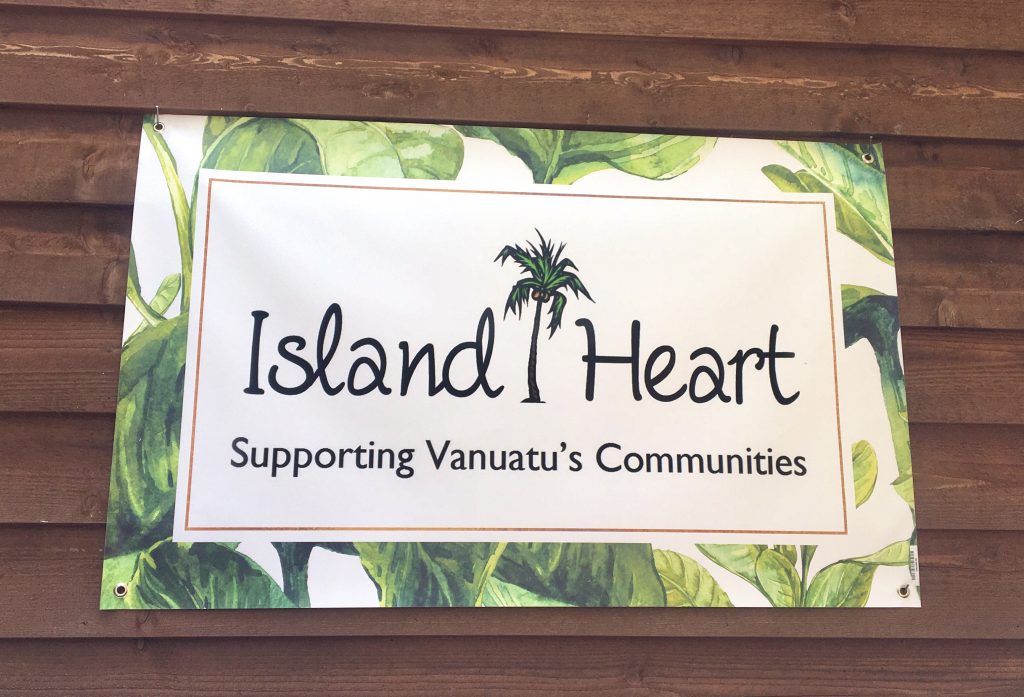 Deb and Kylie still help and support the boys that come over from Vanuatu to work in Australia. Patrick still comes back to Australia every year and he now brings his son to work as well. Kylie and Deb help out where they can providing baked goods and transportation to the boys. The boys even call Deb, 'Mumma Debbie'.
When the women know that their boys have been cared for here, that means a lot to them. It really helps to build strong relationships with the boys here and with the people of Vanutua. The rapport Kylie and Deb have built with the workers families makes it easier for Island Heart to continue to make a difference in their communities.
Kylie and Deb are such beautiful ladies that made us feel very welcome in their home at Don Valley. They are such kind and generous ladies with the biggest of hearts. They really do make the most wonderful high quality crafts.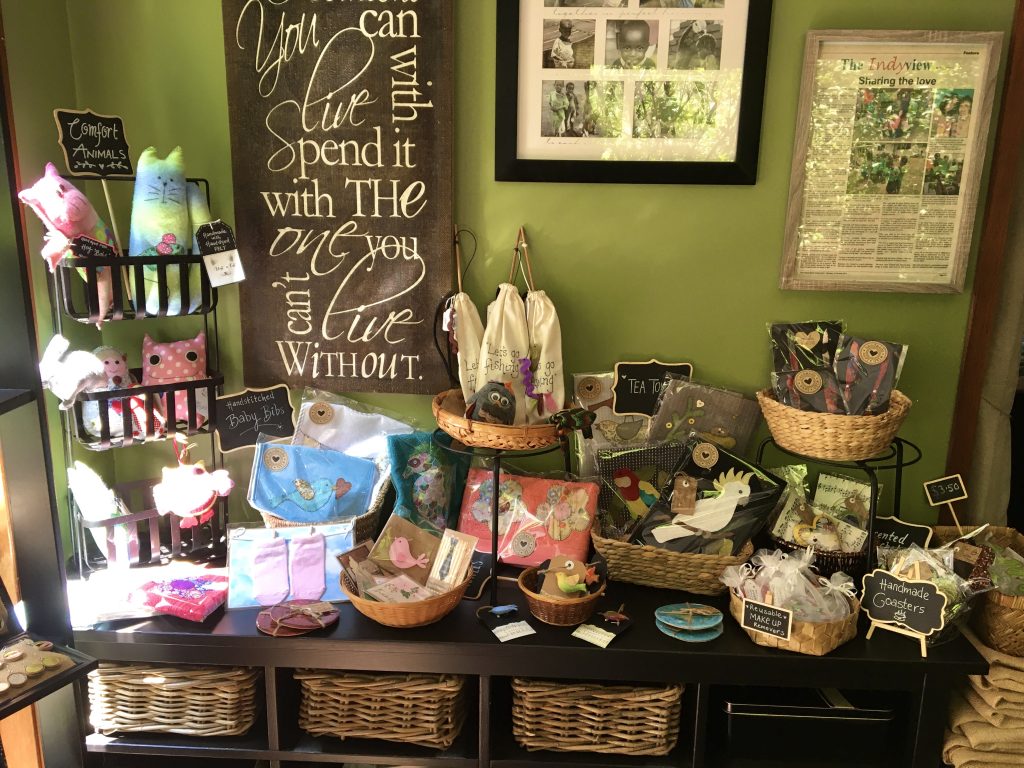 Look out for Kylie and Deb at a few upcoming markets around the Yarra Valley. They will be at:
Harvest Market at Wandin North Primary Scool on the 5th of March 2020
Sprout Fest at Coldstream on Saturday the 5th of April.
If you see them that at a market pop over and say hi. They would be happy to have a chat to you about their charity Island Heart and about the people of Vanuatu.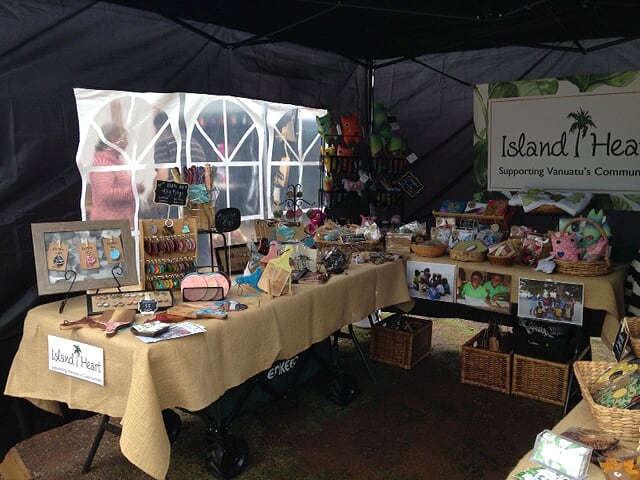 If you would like to support Island Heart in any way or view their lovely crafts please message Kylie on 0423 748 587 or email at islandheartfocus@hotmail.com. You can also like or follow them on their Facebook Page Island Heart for updates on their fundraising.