Sioux Dollman and Regina Orchard have teamed up to create a wonderful plant music picnic day celebrating the music of plants. It is being held in Sioux's own beautiful art garden in Warburton.
Plant music may sound like a strange concept to you, it was to us too. But research has shown that are many benefits to plant music which includes releasing stress from our bodies and minds. It can also increase endorphin levels which is our happy hormones. It is said to increase creativity and your plants tend to thrive after playing music to them.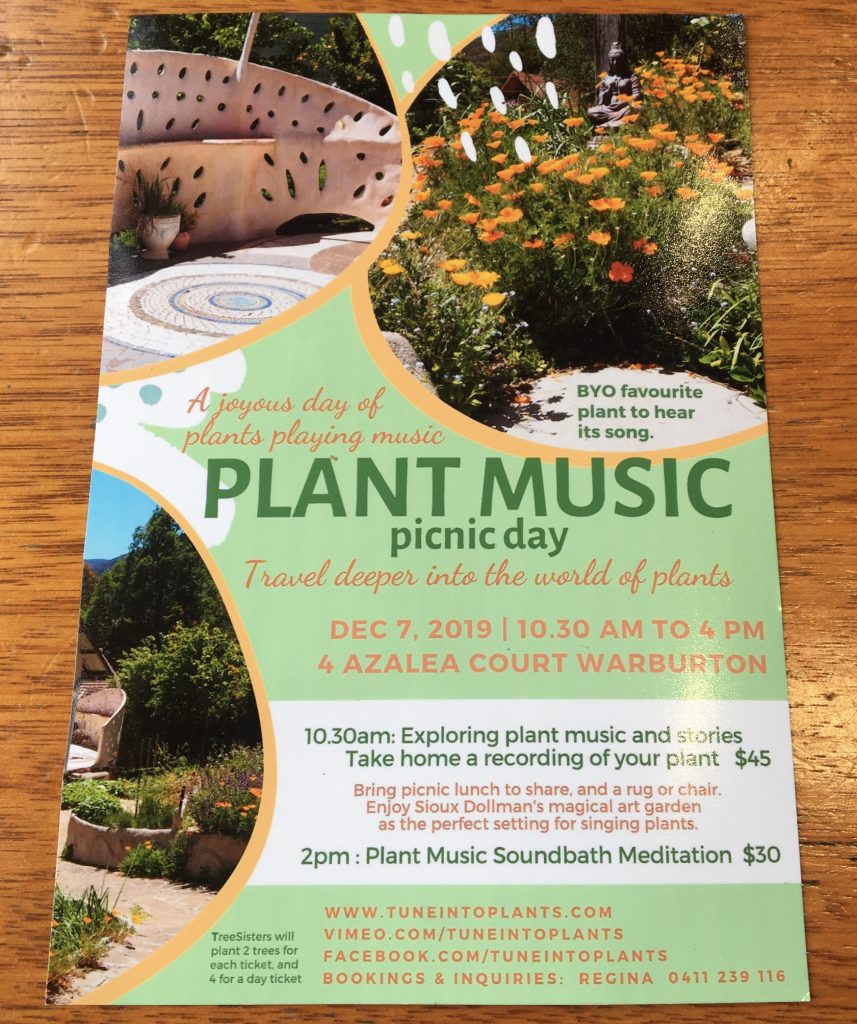 A research experiment in Italy hooked people up to track their brainwaves. They found it took two hours on average to enter a deep state of meditation. But when repeating the exercise with plant music the same deep state was reached in only 20 minutes on average.
If you want to find out more about the slightly unusual world of plant music then this might be for you. The Plant Music Picnic Day will be held on Saturday the 7th of December at 7, Azalea court in Warburton. Come for one session or come for both.
The morning Session starts at 10.30 and will run for 90-120 min and costs $45.00. You can bring your favourite plant a long for this session. It will include exploring plant music and its history. You will take home a recording of your favourite plant or one of the plants in Sioux's Garden so you can share it with your friends. This may inspire you to go deep into the world of nature healing and connect with plants whenever you would like.
There be a BYO picnic following the session. Bring a long a plate of food to share. Sioux will be making some of her famous rhubarb crumble. The rhubarb will be fresh from her own garden. You can laze on the grass where you will have time to explore the music of more plants in Sioux's beautiful garden. Regina says it is amazing when given time we can listen to trees, weeds, vines, shrubs, herbs and grasses. They all have their own unique song to sing.
The afternoon session starts at 2pm and will run for 60-90 min. The cost of this session is $30.00. This session offers a Plant Music Sound Bath Meditation. You can relax on a rug or chair and feel the healing vibrations of plants combining their unique sounds. You will experience mothers natures sound bath.
If you would like any further information you can go to Reginas Facebook page or phone her on 0411 239 116 to book for the day.
There will also be tea, coffee provided. Dress to suit the weather. Sioux and Regina will do their best to make you comfortable. Come along and enjoy a wonderful day of celebrating plants and nature. You are sure to meet some new friends and create a deeper connection with nature and your own plants.