This year's Yarra Valley Arts open studios concludes this weekend with a focus on some of the amazing artists situated along the picturesque Warburton Hwy. It's a great opportunity to meet some very talented artists in their workspaces and see the work that they produce first hand.
You will be energized by the natural beauty of the area and by the artists themselves, many of whom draw on the surrounding environment as inspiration for their art, like Bev Hardidge whose work brilliantly captures the natural wonders she observes on her Hoddles Creek property.
And if you decide to visit Bev's studio you can wander over to Graeme Hardidge's workshop. Yes that's right folks two for the price of one! Graeme and Bev are quite the creative couple.
Like Bev, Graeme is inpired by nature, but Graeme expresses his artistic flair by sculpting his creations from up-cycled materials, such as weathered timber, old tools and farm equipment and car parts to make fun and quirky garden ornaments and rustic furniture.
A Bev Hardidge Original
Birds are often the focus of Yarra Valley artists work and if you spend a bit of time in The Valley you will understand why. The bird life in the area is astounding with over 200 fascinating native species calling the Yarra Valley home, it's little wonder that artists feature them so prominently.
Peter Marshall's fine heirloom cabinets also celebrate the natural wonders of the Yarra Valley, and in stunning fashion. The details captured in Peters Marquetry designs denote the skill that goes into making his cabinets, which will surely become valuable antiques in years to come.
He uses a range of timbers all finished to perfection to showcase the natural beauty of the grain of each different type of wood. Peter's modest workshop and quite demeanor belie the meticulously crafted treasures that he produces and make this open studio one not to miss.
If woodwork is your thing then you should also checkout Shlomit Moira's Bushwood Creations. Where Peter uses a scalpel Shlomit uses a chainsaw! Her sculptures come to life out of huge chunks of locally sourced timber and to the sound of a two stroke engine.
But there is much more to Shlomit's art than just chainsaw skills. Shlomit is an accomplished visual artist who draws on many skills, talents and techniques to create sculptures that vividly capture the spirit and the essence of the creatures they represent.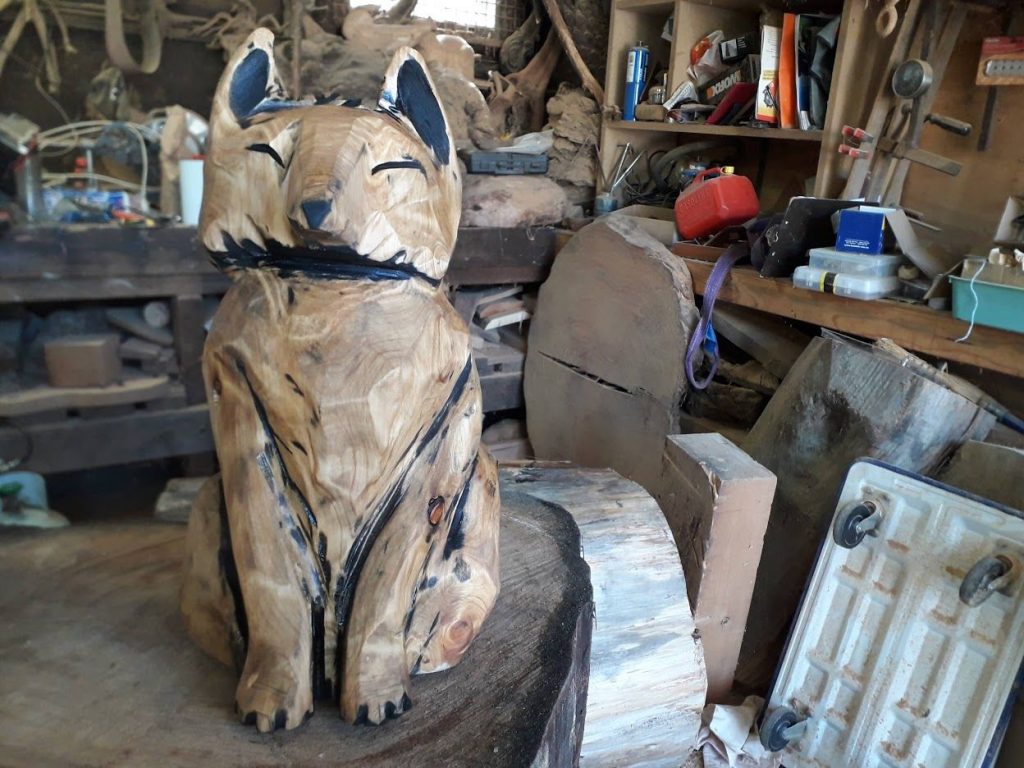 Shlomit is also a beautiful human being with an amazing spirit. A self made woman, a mother, partner and friend to so many in the Warburton community. If you are in the area for Open Studios then you will definitely not regret taking the time to drop in to meet Shlomit.
If ceramics are more your pace then Warburton's Open Studios have you covered. Jena Bedson and Helen Cornell are both accomplished ceramic artists and have their studios open this weekend. Jena's garden and studio is a place that just has that happy feeling. You can tell that Jena has a special way with colour. She understands exactly how to place objects so that they are appealing to the eye.
Her artworks have a similar ease of beauty that is cheery and makes you happy inside. We have more than one of her pieces in our home and each time I look at them I notice a new detail that I hadn't previously. Jena is warm, welcoming and genuine, which combined with the happy feelings her artworks produce makes you want to return for another visit.
Helen Cornell is an interesting ceramic artist also now based out of Warburton. Her dream of a countryside light filled workshop was realised in 2016 when she moved to Warburton. Some of Helen's work explores the magical world of fairies & elves and is sure to pique the interest of any children that you might happen to have in tow.
Helen's style can be rustic and playful, and it can also charm you with a sort of down to earth sophistication. Helen also provides classes so you can learn some of her techniques, in addition to exhibiting and selling her artwork. We will definitely be stopping by to see Helen's studio over the weekend, so don't be surprised to see a story about her soon.
There are many more artists in the Warburton area that will be opening their studios and inviting you into their worlds this weekend so why not pack some lunch and head out into the Yarra Valley a see them all. For a full list of artists, locations and times visit the Yarra Valley Arts website.