This week I spoke to Barry and Christine Alexander about the road they took that found them living and running their popular B&B nestled in the Yarra State Forest. The Canvas Barn is not your average B&B. Barry and Christine have turned a large barn style shed, that was initially designed as a weekend retreat for Barry and his trail biking mates into a structural work of art.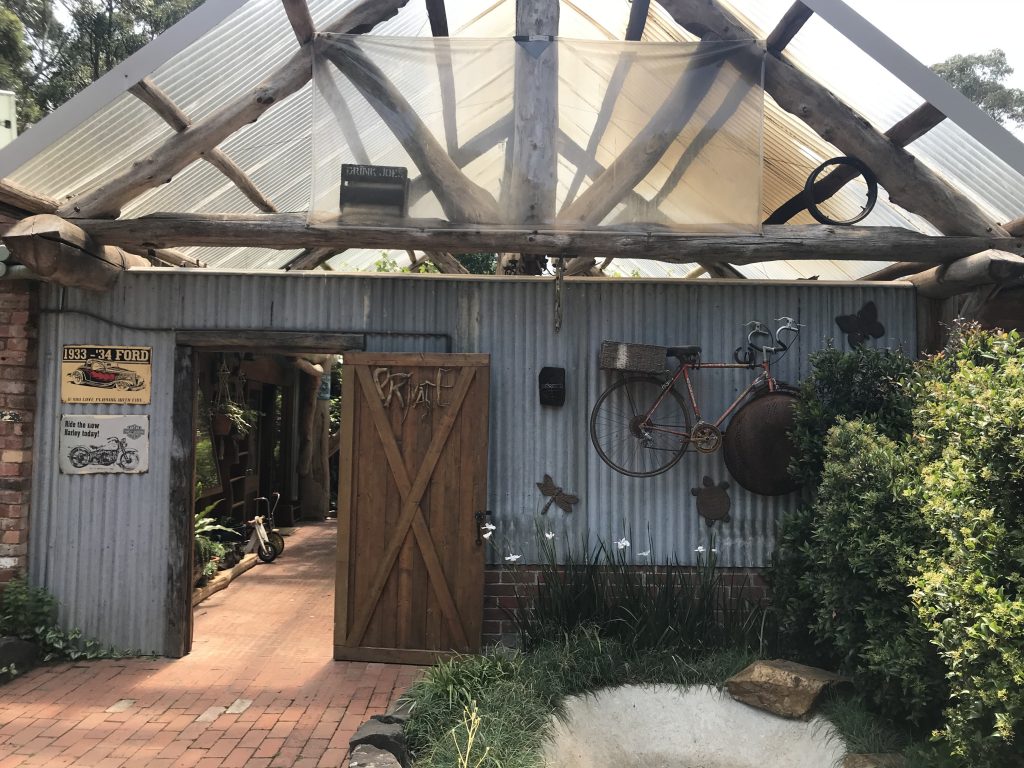 We chatted across the massive table in the middle of undercover courtyard of the B&B, the tabletop, which was no doubt one of Barry's projects, is made from milled logs and is easily big enough to accommodate 10 adults. Barry has his very own saw mill on the property so he can cut all the large timber pieces that feature in his work on site.
The roof we're under is supported by huge columns that were once fallen trees, brought to the property and put in place by crane truck. They're needed too because the cross beams are also huge logs. Behind us is a bar that was inspired by the old English pubs that the couple visited while travelling.
"A friend once said to me that the barn is my blank canvas" Barry says. It's how they got the name, but today it is far from blank. Everywhere you look there are little details, artistic creations and rustic relics that have been recovered, reinvented and incorporated so that they seem like they've always belonged there.
Barry has used the same imaginative approach to create the accommodation. Large sections of trees have been used to form the beds, benches and architraves, all of it beautifully finished to create a luxurious rustic look. The large timbers combined with all the comfort you need in a B&B makes you feel like you're getting a big warm hug from the forest.
It doesn't stop there either. The established gardens are impeccably maintained and dotted with more of Barry's cleaver creations, most notably the Fairytale Tree House. The tree house is literally perched in the trees, and apart from being a functional cubby for their daughter and her friends, it's a stunning visual feature. As is the case with all his creations, Barry has gone the extra mile and given it a spire and proper glass windows. He's also employed some clever engineering to allow the structure to flex with the trees as they sway in the wind.
It's hard to believe that the 1 acre plot was once a scrub block covered in blackberries. Barry and Christine have spent thousands of hours transforming it. Barry initially bought the block in 2004 and spent a month cleaning up the block and fell in love with the place. A year later he started building the barn, which would ultimately become their home and business.
Barry is a car upholsterer by trade and was still running his business from a shop in Ringwood while spending as much time on weekends at the block. After about a year of building the Barry travelled to Ireland for a friend's wedding and stayed in some cool little B&B's over there. It was there that the idea to create one out of the barn came to him. At that stage the barn itself was still a blank canvas, but the dream was born. Barry was sick of working on cars already by that stage and so he began planning the day he could sell his business and move to Warburton full time.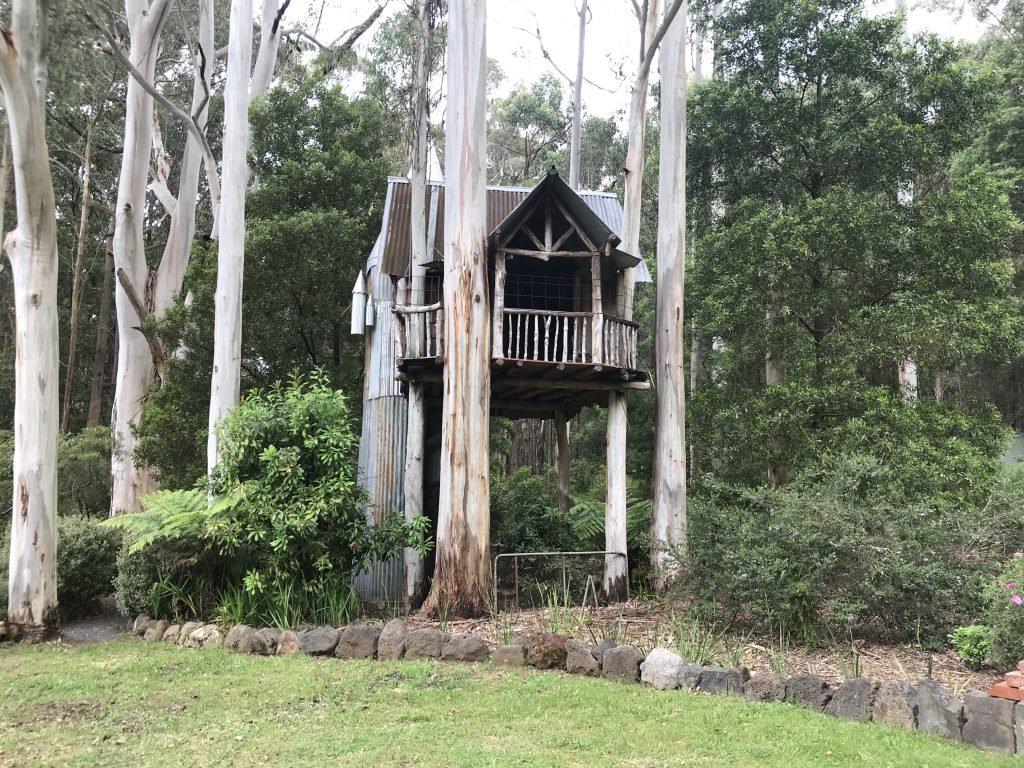 When he returned home from Ireland they decided to get permits to create a B&B and started working towards the dream. Although every aspect of the property looks like it was built to detailed plans the truth is that the process was more of an evolution. "There was never a fixed vision, it just evolved. I'd build one thing then add to it." Barry says. As ideas and inspiration came, new parts of the project would spring to life.
Barry eventually sold his business in Ringwood and the Barn became a full-time labour of love. Not being a builder and taking such an unorthodox route meant that it took quite a long time to complete and the journey was not without its challenges. The property is completely off-grid, so one of the challenges was creating the infrastructure necessary to not only live there, but to be able to support guests.
But over time, bit by bit and with some help from mates and other people who Barry found along the way, the place evolved into one of the coolest B&B's you'll find anywhere. Without a lot of capital, Barry had to be inventive. Finding cheap materials and bartering his labour for other people's skills and expertise was a major part of getting things done.
Recently Barry and Christine expanded the B&B to include a tiny house as another accommodation option for their guests. The tiny house has been created from an old 1960 Bedford truck. In the same way that the rest of the place came together, the Bedford wasn't originally going to be a tiny house. Barry bought it with the idea that he would restore it and build a gypsy house on the back of it to travel around Australia in.
"Reality hit and the concept of driving around at 70ks an hour in a 1960 Bedford truck with a house on the back didn't sound like a lot of fun, so that plan went out the window." Barry recalls with a laugh. So instead of that he decided to convert the old Bedford it into a Tiny House. The Tiny House is a work of art itself, again Barry's cleaver use of recycled materials is on display. The cladding, the windows and the use of heavy timbers creates an interesting and rustic exterior, with a luxury tiny house experience on the inside that makes for the ideal getaway for their guests.
To create some separation of the Tiny House area from the rest of the property, Barry used bluestone, some old bricks and a collection of other recycled materials to create a garden folly with a big heavy door that was made from scratch. The door looks like it belongs on a four hundred year old tavern and the folly, ties the tree house and the tiny house together in a scene that seems to belong in a hobbit movie.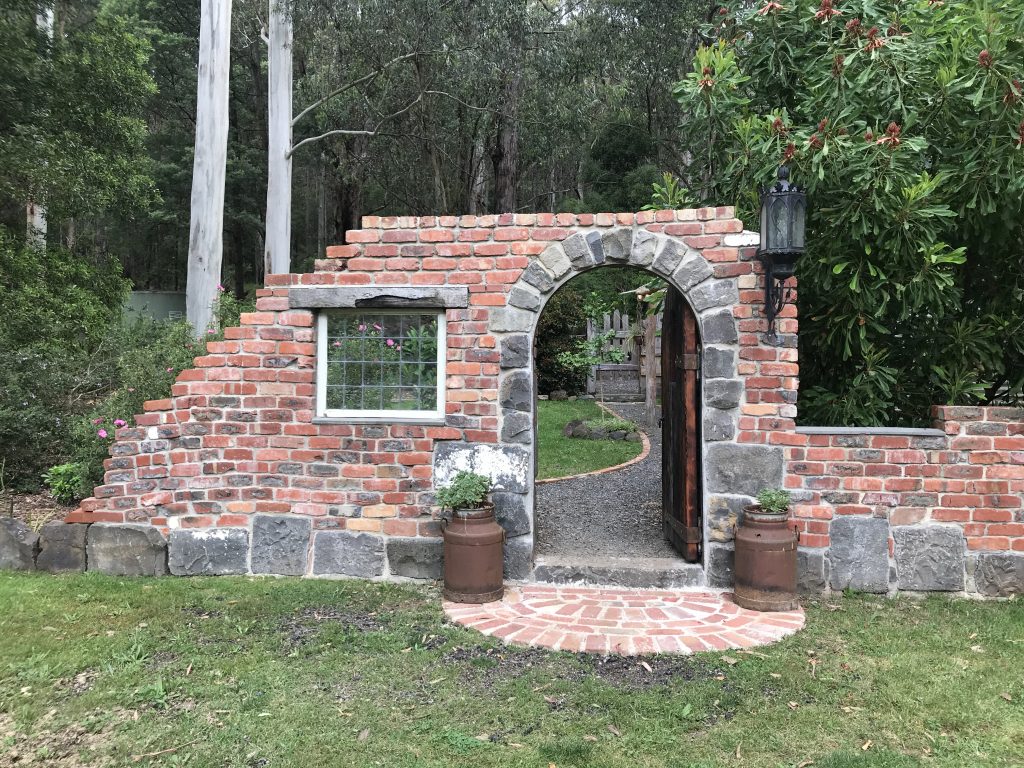 The Bedford truck that the Tiny House was built on has its own special connection to Warburton. It was owned by a local personality Terry Palmer. Terry was a character prominent in the Warburton community, whose own tough experience growing up inspired him to help local teenagers in need of some guidance. "Terry used to drive around the town in the old Bedford with a bunch of teenagers in the back." Recalls Barry.
When Terry passed away Barry collected some of Terry's old items which now grace the garden area surrounding the Tiny House as a little homage to a man who gave a lot of his time and energy to others. It's a lovely touch and adds a layer of authenticity to what Barry's done with the tiny house.
So much of what Barry has done is artistic in nature, but he insists that he's no artist. He thinks that his knack of being able to turn his hand to all these different creations comes from his mastery of car trimming which is a complicated trade. The inspiration to create comes partially from his experiences travelling and partly from finding old things and getting an idea about how they can be re-purposed.
It's been a long journey and countless hours of hard work to create The Canvas Barn, and now Barry and Christine are reaping the fruits of all that labour. "We are very happy and grateful to be able to live the ideal life in the Yarra Valley. I like to call it Yarradise." Barry jokes. It's a pun that just might catch on as more people move to the Valley to live out their dreams.
Barry and Christine are a lovely couple and their B&B is a unique experience, only a short drive to all the sights and activities that the Warburton Valley has to offer. The Canvas Barn is located at 386 Old Warburton Rd, Warburton VIC 3799, for bookings call 0405 523 722 or visit their website for more details.